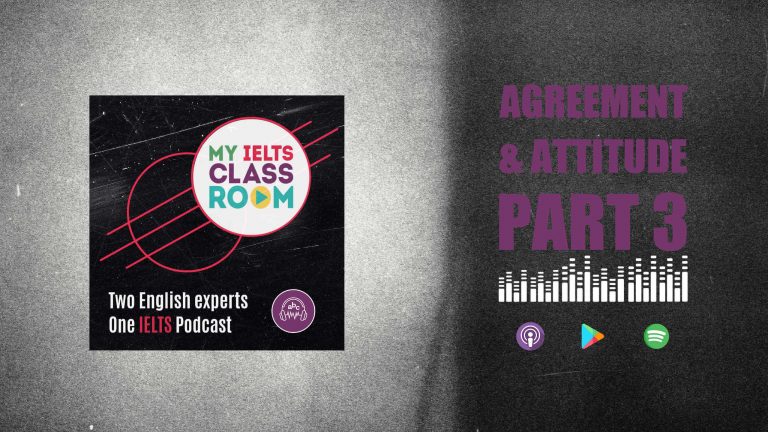 IELTS Listening Skills: Recognising Agreement and Attitude
IELTS Listening Skills: Recognising Agreement and Attitude
Hey! Did you know that in Part 3 of the IELTS Listening test, you are often asked to listen for the speakers' attitudes to the topic that they are discussing? In fact, I think that this is what makes this part of the exam so tricky. You are no longer being asked to just match facts. Instead, you will have to identify if the speakers agree or disagree, or if they are surprised by, concerned about, or simply are interested in the information that they are discussing. Today, Nick and I will look at two types of Part 3 questions to show you how to recognise this "language of attitude" and to prove why learning them should be on your list of IELTS listening skills.

This is an interactive episode so please have a pen and piece of paper ready so that you can join in the activities. 
Below, you can find a summary of the episode, which includes all of the links to useful materials and the times of each part of the discussion (so you can go directly to the part you want to listen to). You can also find every episode of the podcast here 🚀
Subscribe to My IELTS Classroom podcast on Apple podcasts here 
Subscribe to My IELTS Classroom on Google podcasts here
---
My IELTS Classroom Podcast Episode 52 Summary: IELTS Listening Skills – Recognising Agreement and Attitude
00:00 – 04:55 Introduction (Shelly was sick but it 

wasn't

 COVID, so why was she complaining?)
04:56 – 09:26 An I

ntroduction to Speaking Part 3
I think that Part 3 of the IELTS listening exam is hands down the most difficult. Why? Well, the obvious answer is that it is the only part of the test where you can have up to three speakers. But, while this is true,  I think that this answer is too simplistic. That's because it is not the number of speakers that makes IELTS Part 3 more difficult, but the type of information that you are asked to listen for.
You see, Part 3 of the test is the only one where you are asked to identify how the speaker FEELS about the information that they are discussing. In other words, it is the only section that asks you to interpret the speakers' attitudes, and this takes the IELTS listening skills you need to do well in this section to a whole other level!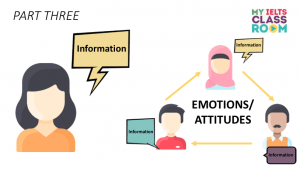 09:27 – 29:36 IELTS Listening Skills 1: Recognising Agreement
I can guarantee you that EVERY student who sits the IELTS test will have at least one question that asks them to recognise whether or not the speakers in Part 3 agree or disagree with one another. In fact, I expect you will have many more than one question like this as it is an IELTS favourite. If you are answering  multiple choice questions, they will explicitly tell you that you are listening for agreement. Look at this question as an example:

Would you have realised that the key words in this question are "Jack agrees with Alice"? I would be surprised if you did as very few IELTS books highlight the fact that many of the Part 3 questions require you to listen for attitude. Why is this so important? Well, it is because you may hear Jack and Alice discussing all three of the possible answers here, but you have to find the one that they each AGREE on.
This is what many students miss and why so many struggle with multiple choice questions – they are just trying to match synonyms and paraphrasing. This is a great idea in Part 2 of the test but not Part 3. Here you have to focus on an extra layer of meaning: the speakers' attitudes.
---
If you want to learn more about the tricks that exam writers use when they construct Listening Part 3 questions, then why not listen to the most popular episode in the My IELTS Classroom Podcast catalogue when you finish this one?
---
So, how can you recognise if the speakers agree or disagree? Well, they will always explicitly tell you! And, in my experience, there are two main ways that IELTS shows agreement: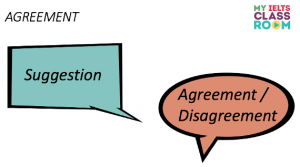 One student makes a suggestion and the other agrees / disagrees

 
This is the classic IELTS "trick". One student will suggest an option and the other will either clearly agree or disagree with them. In this case, it is the second student's reply that is the key to locating the answer. It may sound strange, but often it is just ONE or TWO WORDS that confirm if agreement has been given. This is what you should focus on!
Jack: We could start by giving our questionnaires to the students.

Annie: We did that last semester though. (DISAGREE)
Jack: Why don't we focus more on the way that attitudes to the environment have changed in recent years?

Annie: Good idea! (AGREE)
Jack: How about we focus most on Shakespeare's early life? You know, on before he became famous?

Annie: Maybe (DISAGREE)

---
If you are looking for the highest level of support and guidance in your IELTS  journey, then why not find out about our award-wining Gold Package by clicking here.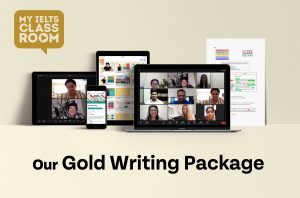 ---
One student makes an offer / decision and the other contradicts or confirms 
In a similar way, students will often actively disagree with one another in Part 3. As they are English, this will often mean that one student offer san option, and the other will say "Yes, but…." and give a SECOND option (which is the correct answer). This is tricky as you may stop listening after you hear "yes" and not listen to the information after "but"! BE CAREFUL!
Jack: I think it would be a good idea to talk to Mr Johnson about our slides before we decide.

Annie: No, I think that it would be better to talk to the manager of the computer centre as it's an IT issue. (DISAGREE)
Jack: I can write the introduction if you like – I did it for our last report.

Annie: Right, but I have more experience with the topic, so maybe I should do it this time (DISAGREE)
Jack: How about we focus on the fact the Romans were the first to bring roads to Britain.

Annie: Good idea, but we can do that later in the presentation. I think that we should start with how they invaded the countries that they conquered. (DISAGREE)
Recognising agreement is not limited to multiple choice questions though. In fact, entire sets of matching questions focus entirely on recognising what the speakers agree to include in a presentation. In the episode, Nick and I use this example from Cambridge 15 Test 2, Part 3 to show how EVERY answer focuses on agreement.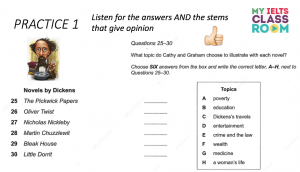 29:59 – END IELTS Listening Skills 2: Recognising other emotions
Although agreement is the most common attitude that IELTS asks you to recognise, there are actually many other emotions that you may be asked to identify including concern and surprise.  For the rest of the episode, Nick and I look at Cambridge 14 Test 4, Part 3 to analyse these. Here are the questions so that you can listen along: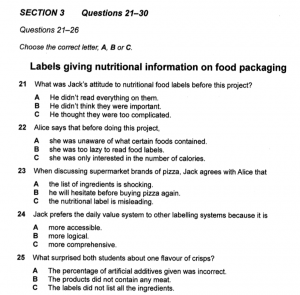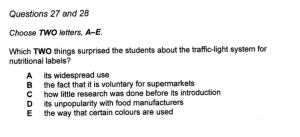 Would you like expert help you improving your Listening?
We offer a 5-day intensive course for IELTS test-takers every month that covers all aspects of listening, from how to approach every type of question, to how to use key words to follow a lecture, and avoid the distractors in Multiple Choice questions. Even better, with every course having no more than 8 students and being run by an ex-examiner, you will be getting personalised advice that is guaranteed to help you to improve your score.
Find out more about the course and how it can help you hit your target score here.