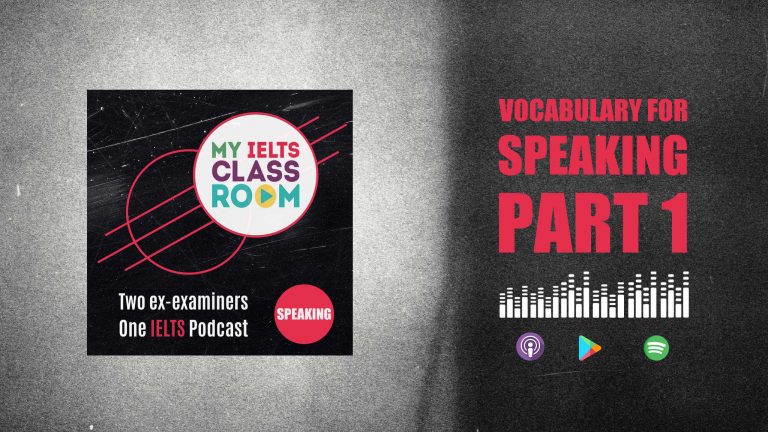 IELTS Speaking: Vocabulary for Part One
IELTS Speaking Vocabulary for Part One
Hey! Nick and I talk a lot on the podcast about the importance of "topic-specific vocabulary" in speaking and writing. However, it can be difficult to give clear examples of what this "magical" lexis is, as it changes for each topic. So, today, we thought that would try something different. We have invited 3 native speakers to attempt 6 of the current reported IELTS Speaking Part One topics. We gave them zero preparation or advice – all we asked is that they answer the questions naturally. The result? Lots of natural IELTS speaking vocabulary, plus a chance to hear fantastic intonation and use of filler words.
This is a Patron Only Episode: Click here to support the show and gain access to the audio

https://www.patreon.com/myieltsclassroom
I tried to cover topics that are difficult or "strange" (which isn't difficult for IELTS)! In the end, I chose. I have to say, it was interesting for me to hear how my friends and family answered these questions. Some of the language was exactly the same as I'm used to hearing from students, but some was totally unique.
More importantly, it is great to hear responses that are entirely natural – it can get a bit tiring listening to students try to "force" vocabulary into their answers. If nothing else, this episode shows that the best IELTS speaking vocabulary is the words you need to answer the question clearly!
Plus, if you are new to the podcast, you may want to check out our previous episode about Speaking Part One, where we discuss the six most common errors that students make in this part of the test and show you how to overcome them.
Subscribe to My IELTS Classroom podcast on Apple podcasts here 
Subscribe to My IELTS Classroom on Google podcasts here