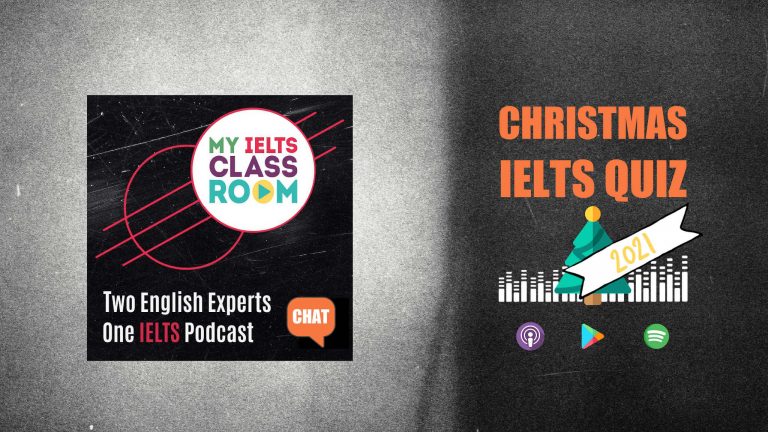 IELTS Christmas Quiz 2021!
Yes – it is time for our annual Christmas episode! This year, I have taken some of my favourite Christmas games and adapted them to test your knowledge of IЕLTS. It is nothing too serious, so if your test is soon and you are looking for some genuine lessons, you can access over 100 in our archive here.
However, it is good to sometimes let your hair down. It has been a long year. COVID is still causing havoc with tests and, as a result, migrating or studying abroad is still far more complicated than it should be. Today, we try to counter that slightly but offering a brief window of fun.
Below, you can find a summary of the episode, which includes all of the links to useful materials and the times of each part of the discussion (so you can go directly to the part you want to listen to) 🚀
Subscribe to My IELTS Classroom podcast on Apple podcasts here 
Subscribe to My IELTS Classroom on Google podcasts here
Become a Patreon to gain access to extra BONUS episodes here

---
The Articulate Christmas Quiz 
How good is your Christmas vocabulary? I don't think that Christmas will ever be a topic in the writing or speaking tests, but let's warm up with a simple guessing game. I'll describe the lexis, you and Nick can guess!
The Find the Error Quiz
Maybe my favourite Christmas game as a kid was the "Find the objects" game that we used to play at my Auntie Sylvie's house. Every year, she would hide 20 small objects in her living room. It might be a needle, or a button, or a pound coin, but whatever it was, it was hidden REALLY well. Maybe on a Christmas ornament hanging on the tree, or cello taped to the picture frame. You had 10 minutes to spot as many as you could. I NEVER got them all.
Obviously, it is impossible to "hide" objects on a podcast, but instead I thought that we could play "Find the Error". This week, one of my favourite podcasts, Criminal, also published their Christmas special. It was about animals who "commit crime". In the episode, a German reporter explains how he solved the mystery of how hundreds of shoes had gone missing in his town. We will play you a short clip and ask you to identify 8 grammar errors (in an otherwise wonderful story!)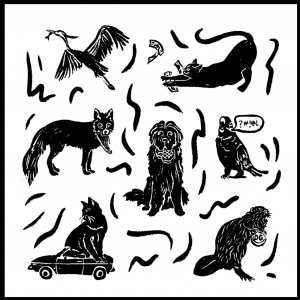 ---
Want to know how the examiner will apply the band descriptors when marking your IELTS essay?
Then download a copy of our FREE e-book, which explains how each of the four marking criteria is applied and includes the most common errors made by test-takers. Just click here for your copy.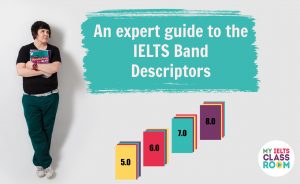 ---
The Dingbats Quiz 
Dingbats was a word game that entered my life when I was a teenager. The concept is very simple. You are shown a card and asked to identify the hidden phrase or idiom. Usually, you do this by just speaking out what you see. For example, what word or phrase do you think this card is showing us: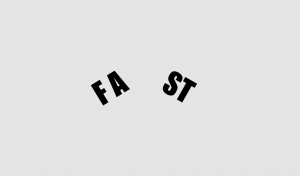 That's right – it is "breakfast" (as it is the word "fast" which has been broken. I have tried to make a small set of Dingbats based on words and phrases that are associated with IЕLTS. See if you can do a better job than Nick!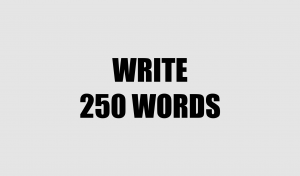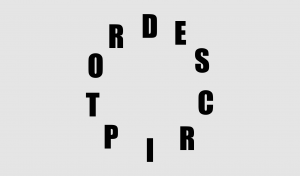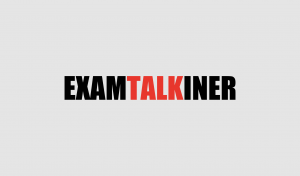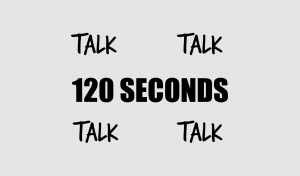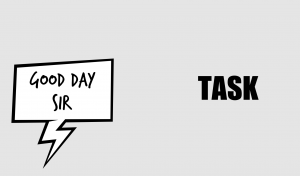 The Guess the cue card Quiz 
Еvery year, there are 150 cue cards to torture student in Speaking Part 2. To finish the quiz, I will answer 5 cue cards and Nick will try to guess which one I am addressing.
---
Еnjoy the lesson? Then why not listen back to last year's quiz for more festive fun? You can find the episode here.