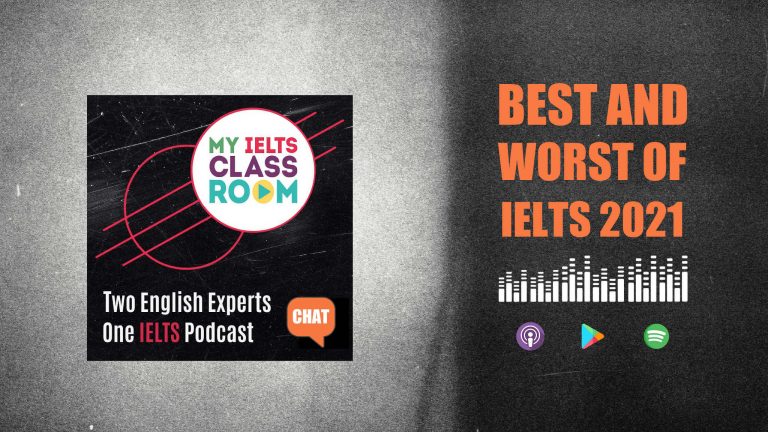 The best and worst of IELTS 2021
Hey! As the year draws to an end, it is time to sit back and reflect on what 2021 brought for IELTS test-takers. Obviously, there have been difficulties. Many test centres around the world have remained closed thanks to COVID, and migration programmes, particularly express entry into Canada, have been hit hard.
However, despite the havoc caused by the pandemic, this has been the most successful year to date here at My IELTS Classroom. Our podcast has grown significantly, with more that twice as many listeners tuning in each week in December as there was in January.
The new reading, listening, and speaking courses that we started to offer at My IELTS Classroom in 2020 continue to be popular, and we have added dozens of new daily group lessons that all of our subscribers can join for free as part of their IELTS packages.
Most importantly, we have helped hundreds of students reach their target scores (you can read some fo their success stories here), and have had a a lot of fun along the way. So, today, join Nick and I as we review the best and worst of IELTS 2021. We will discuss
The best and 

worst

 Speaking Part One questions in 2021
The best and 

worst

 Speaking Cue Card questions  in 2021
The best and worst IELTS essay questions in 2021
The best My IELTS Classroom 

podcast

 episodes in 2021
Our prediction for what lies ahead in IELTS 2022
Finally, I want to say a massive thank you to anybody who has listened to our podcast and supported us this year. Nick and I put a lot of time and effort into recording these lessons, but it is all worthwhile when we get messages from students who find them useful. So, however 2020 treated you, I wish you and your family a wonderful 2021.
Subscribe to My IELTS Classroom podcast on Apple podcasts here 
Subscribe to My IELTS Classroom on Google podcasts here
Become a Patreon to gain access to extra BONUS episodes here