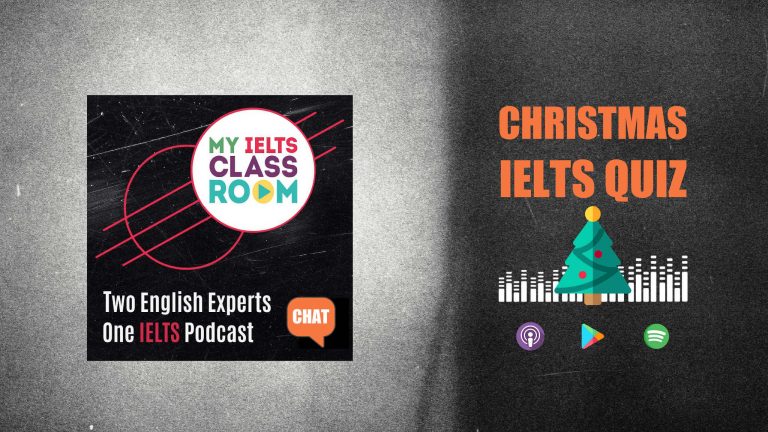 My IELTS Classroom Podcast Episode 36: IELTS Christmas Quiz!
Hey! The festive season is with us, and whether or not you are going home for Christmas or even celebrating at all, today, Nick and invite you to join us for three fun IELTS Christmas quizzes – we will practice some grammar, review some lexis and, most importantly, have some fun at the end of what has been a very long year!
Below, you can find a summary of the episode, which includes all of the links to useful materials and the times of each part of the discussion (so you can go directly to the part you want to listen to) 🚀
Subscribe to My IELTS Classroom podcast on Apple podcasts here 
Subscribe to My IELTS Classroom on Google podcasts here
---
Podcast Summary: IELTS Christmas Quiz
00:00 –  07:41 How Nick and I spent Christmas as a child! Shelly and her sister once got a BMX scooter. Nick got a X. They both at turkey ad played games!
07:42 – 29:46 

The

 A – Z of IELTS Christmas Quiz 
How many of our 23 quiz questions can you get right? Yes, that is right, there are 23 questions in our alphabet quiz as I couldn't think of questions for X, Y, and Z! Tell us how many you got right in the comments
29:47 – 36:03 –  

The

 IELTS Grammar Quiz 
We can't have a Christmas IELTS quiz without some grammar questions! See if you can find the ONE error in each of these sentences and then listen to check your answers:
If the government spends more on transport infrastructure, the amount of traffic congestion would fall.
Working night shifts has a detrimental affect on people's mental health.
One of the main reasons of an increase in waste is the amount of plastic packaging used by manufacturers today.
It could be argued that today tourists can take advantage of last minute deals where they can book airline ticketand hotel at a discounted rate.
The movement of people to cities have caused a number of issues from lack of housing to an increase in pollution.
In short, not only good teachers can help students to learn difficult topics easily, but they can also analyse their problem areas.
36:03 – END 

The

 IELTS Lexis Quiz 
Nick and I check our vocabulary on four common IELTS topics: cities, social change, health and technology. Play along to see if you can guess the words that we describe.
---
 Enter the My IELTS Classroom Christmas Quiz 🎅
Want to win a free subscription to our Bronze Writing Package (worth £34.99)? Then email your answers to the following questions to hello@myieltsclassroom.com before 31/12/20 for a chance to win
What did Nick put on his pizza back in April?
In August, Shelly went on holiday up a mountain – what couldn't she eat OR what activity did she do?
Nick and I both have our birthday in the same month – which one?
If you are a new listener, you still have time to listen to the previous episodes to find the answers (or just look back through these podcast posts on our blog!