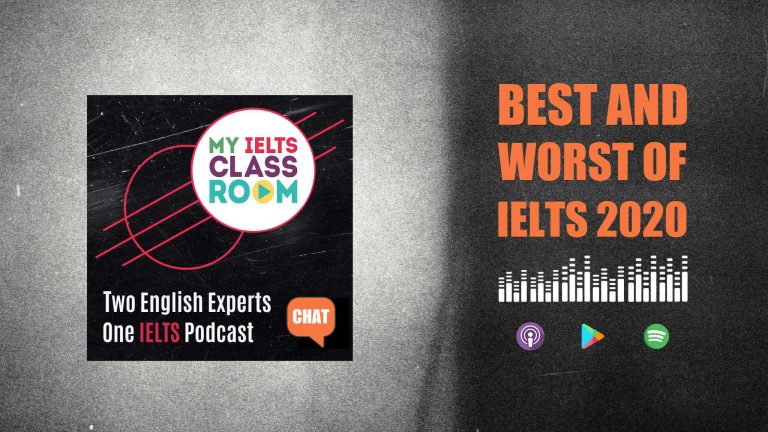 The Best and Worst of IELTS 2020
Hey! I think that we can all agree that IELTS 2020 has not been easy. COVID has meant that many of us have had to spend weeks or months indoors, with test centres around the world closing, university courses moving online, and future plans being put on hold as we all try to ride the storm into 2021. However, despite of the hardships of this year, there have been bright spots.
This podcast has been one. It wouldn't exist if Nick and I hadn't had spare time on our hands during lockdown. And the same goes for the new reading, listening, and speaking courses that we now offer at My IELTS Classroom, along with the daily group lessons that all of our subscribers can join for free as part of their IELTS packages.
Most importantly, although there were fewer test-takers this year thanks to the centre closures, My IELTS Classroom has still helped hundreds of students reach their target scores (you can read some fo their success stories here).
So, today, join Nick and I as we review the best and worst of IELTS 2020. We will discuss
03:04 – 09:19 The best and 

worst

 Speaking Part One questions in 2020 
09:19 – 18:25 The best and 

worst

 Speaking Cue Card questions  in 2020 

18:26 – 32:29 The best and worst

 IELTS essay questions in 2020  

32:30 – 35:41 The best My IELTS Classroom 

podcast

 episodes in 2020 
35:42 – END Our 

favourite

 teaching moments in 2020 
Plus, you still have time to enter the My IELTS Classroom Quiz to win a free monthly subscription to the My IELTS Classroom Bronze Writing Package by emailing the answers to these three questions a to us by December 31st! 🎅🎅🎅
What did Nick put on his pizza back in April?
In August, Shelly went on holiday up a mountain – what couldn't she eat OR what activity did she do?
Nick and I both have our birthday in the same month – which one?
If you enjoyed this episode, then you can listen to more podcast episodes on our blog, or subscribe to make sure you never miss an episode in 2021.
Subscribe to My IELTS Classroom podcast on Apple podcasts here 
Subscribe to My IELTS Classroom on Google podcasts here
---
You can find all of our video lessons, including a full 9-hour Grammar course, on our main website www.myieltsclassroom.com. This is where you can also sign up for our IELTS essay correction service or join one of our writing packages. 🚀 We wish all of our listeners a very Merry Christmas and a Happy New Year! 🎄🎄🎄