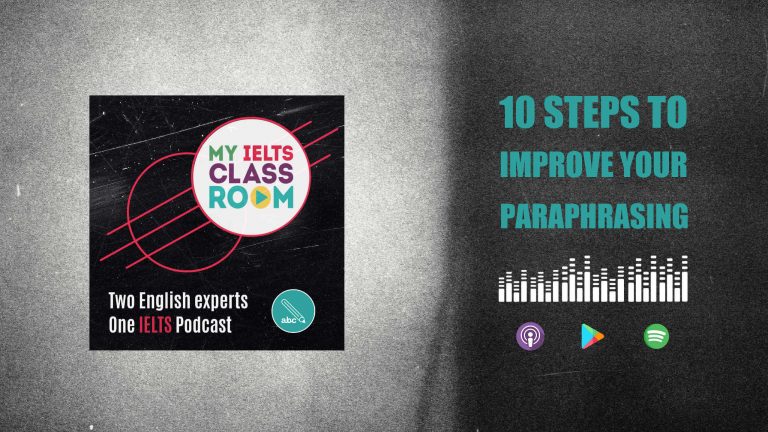 Want to Improve your IELTS Paraphrasing?
Want to Improve your IELTS Paraphrasing?
In the writing exam you will be given a topic that you need to address in an essay. One important IELTS skill, therefore, is being able to talk about the topic without repeating the sentences from the task. This is called "paraphrasing" and is one area where many students struggle. Why? Well, it is because there is so much false information about IELTS paraphrasing online (and in classrooms).
Many students have been told that you must NEVER repeat a word from the task.
This is not true.
Others think that they will be penalised if they repeat a word multiple times in the body of their essay.
Again, this is not true.
So, what is the truth about IELTS paraphrasing and what steps can you take to make sure that your essay is written as clearly and concisely as possible? Find out in today's episode of My IELTS Classroom!
Below, you can find a summary of the episode, which includes all of the links to useful materials and the times of each part of the discussion (so you can go directly to the part you want to listen to) 🚀
Subscribe to My IELTS Classroom podcast on Apple podcasts here 
Subscribe to My IELTS Classroom on Google podcasts here
---
Introduction: Nick's got a new puppy! Welcome Charlie!
Nick has become a dad! Yes, we are proud to introduce the latest member of the My IELTS Classroom team – Charlie! If you are in Nick's live lessons this week, look out for Charlie in the background as he starts to learn the basics of IELTS. He is showing great promise but finds studying very tiring so needs lots of rest too.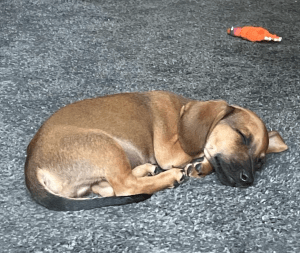 Why is paraphrasing important?
In the IELTS writing exam, you will be given a topic to discuss. It might be advertising or the importance of choice, or the role of tourism in a country. As you write your essay, you will need to be able to talk about the topic using different words to show your range of lexis. Choosing different synonyms to talk about the same topic is called paraphrasing, and is a key skill, particularly when writing introductions and conclusions.
In fact, one common mistake for low-level learners is to simply copy the task word for word. This is obviously not good and something that you should avoid as any "strings" of words that are copied from the task will be discounted by the examiner in your word count, and obviously, copying does not make a very good impression.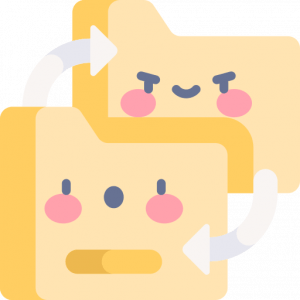 I would say that in most essays you will need to be able to paraphrase the information from the task two or three times depending on the type of essay you are writing: once in the introduction, once in the conclusion, and maybe again in the topic sentences (if you are writing a Discuss Both Sides essays, a Advantages / Disadvantages essay, or a Problem / Solution essay)
So, paraphrasing is definitely an important skill that we need to practice, but in my experience, too many teachers focus too much on its importance. As I mentioned in the introduction, they tell students that words from the task can never be repeated, and that you cannot use the same synonym twice in an essay. This is simply not true and, as we will see in the episode, it can lead to students writing sentences that are simply nonsensical!
Paraphrasing should be invisible.
When the examiner reads your writing, they should not "feel" like they are reading a "paraphrase". They should feel like they are reading a sentence that is 100% natural. So, that is what we are going to focus – paraphrasing naturally!
---
Want to know how the examiner will apply the band descriptors when marking your IELTS essay?
Then download a copy of our FREE e-book, which explains how each of the four marking criteria is applied and includes the most common errors made by test-takers. Just click here for your copy.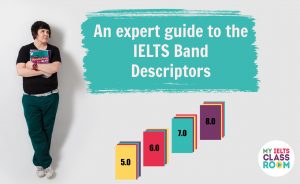 ---
The 10 steps to good IELTS paraphrasing
1. Synonyms need to be 100% accurate
The most common error made in IELTS paraphrasing is simply that students try to replace one word with another that does NOT have the same meaning. The beauty of English is that as it has had so many influences from so many languages over the centuries, we have been left with multiple synonyms for most words. However, although these alternative word choices are what make the English language so rich, it is also the reason why it is so dangerous for students.
Take even a simple word like "big" – for example. You can find more than 10 synonyms for this word in a thesaurus but each is used in different contexts and with different collocations (you can read more about this in the blog post below). This means that when you are choosing synonyms for the words in the task, you need to take great care to ensure that the meaning of your new word 100% matches the meaning of the word that it replaces.
More importantly, we want to make sure that our paraphrasing is clear. In other words, we want to keep it as short as possible. Do not choose what you think is the most complicated synonym. Do not choose what you think is the most 'academic" synonym. Choose the words that makes your sentence the most meaningful. As I always say to my students:
The best word in a sentence is the word that conveys your meaning most clearly and concisely.
Let me show you the common types of mistakes that students make when choosing synonyms. Have a look at the following sentences and see if you can guess what the phrases in red are synonyms for.
However, there are a number of measures that can be implemented to encourage people to get to know the dwellers nearby. 
While some argue that children should learn to utilise their own time, I agree with those who believe that parents should encourage their children to participate in organised events that comprise of a mass audience. 
While some believe that these borders will not be needed in the coming times, I agree with those who feel that they are important for all

the jurisdictions

. 
Although travelling by two-wheelers has a few benefits, in my opinion, I believe cars are more preferable as they are a convenient and reliable mode of transportation.
To remedy this situation the government needs to increase the number of refreshment occasions in communities such as combined festival celebrations and sports competitions 
In fact, I agree with those who feel that life will be simpler if there are fewer tongues in the world for two reasons
I hope now that it is obvious the negative fact that poor synonym choice can have on the effectiveness of your arguments! Only use words that you are 100% sure have the same meaning as the word you are replacing.
---
You can also read more about context and collocation in my blog post "5 common mistakes with Lexical Resource".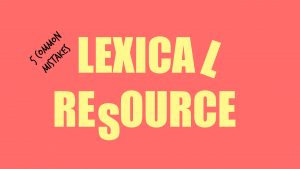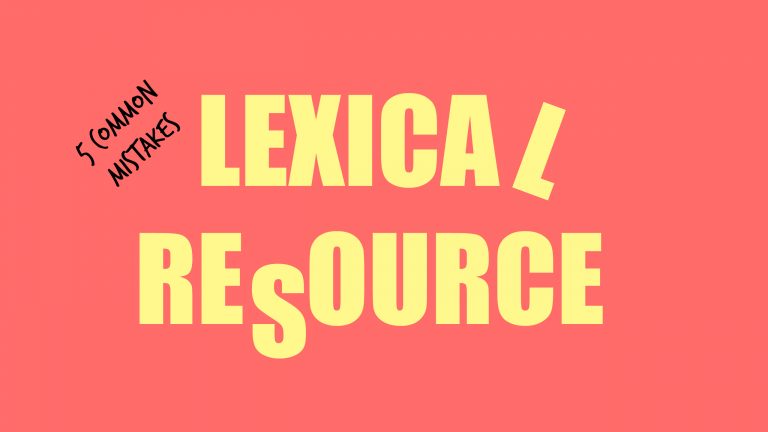 ---
2. It is OK to repeat words from the Task!
This naturally leads to the question, what you do if you do not know a synonym for a word in the task? Well, here is the earth shattering news:
It is OK to use a word from the task!
In fact, sometimes it would be crazy if you didn't use a word taken from the task! Take this question which appears in Cambridge 16:

This task is asking you to talk about sugar. How could you possible introduce the topic or write the essay without mentioning the word "sugar"? The simple answer is that you can't and trying to do so would lead to an essay that would have no meaning at all.
---
3. It is OK to repeat synonyms throughout your essay!
In the same way, it is absolutely fine to re-use synonyms in your essay. Although many words in English have one good synonym, very few have three or four. I often find that the further through marking an essay I get, the crazier the synonyms become as students try to avoid using synonyms more than once. This is a mistake!
I think that the best essays are those that use a mix of one or two good synonyms and referencing. 
Referencing is something that many students overlook when paraphrasing. Remember, we do not want to repeat nouns, or synonyms of the same noun, in back-to-back sentences. If you find that you want to use the same word again, consider using referencing instead to avoid repetition.
A couple of weeks ago, Nick and I discussed how you can avoid repeating the word "people" in your essay – it is a great episode, which you can listen to here. Imagine that you are writing an essay about tourists. You could easily write a whole essay using only:
tourists (from the task)
holidaymakers (good synonym)
they (referencing)
Seriously – I really think that is all you need! Sure, you may be able to think of other good synonyms depending on the context (backpackers, visitors) but it is always better to stick to words that are 100% correct than try to come up with crazier and crazier replacements!
---
4. It is often better to change the form of a word than replace a word completely!
I have been surprised over the last few years how few students take advantage of changing word form as a way to paraphrase. This simply means changing a noun to an adjective or a verb. This way, you do not need to replace the word completely. Look at the previous question about "high sugar" – IELTS themselves have changed the word form when they use "sugary food".  These are the types of simple changes you can make if you are struggling to find synonyms. Take this question for example:

There are definitely clear synonyms for "rubbish"  and " produce" (waste / generate) but in the heat of the exam, it would be perfectly fine to change the sentence from active to passive like this:
More rubbish is being produced today than ever before.
---
5. Focus on the meaning of the complete sentence!
One common paraphrasing error is dividing sentences into individual words and finding synonyms for each.The result is usually always a string of words which have no overall meaning when read together. Look at the below "paraphrase".
In some areas of the US

, a 'curfew' is imposed, in which

teenagers

are not allowed

to be out of doors after a particular time at night

unless they are accompanied by an adult

. What is your opinion about this?

In few territories of the US

,

young children

are forbidden to

trespass areas which are often subject to curfew at night

until they come with a mature person.
This is a example taken from one of my student's essays. Look at how they have tried to directly paraphrase each section of the task separately. I have colour-coded it to help you. While some of the paraphrases are quite good (for example the green exchange or "are not allowed" for "are forbidden to") but many are poor, and when you read the full sentence it very hard to find any real meaning.
Remember, a person who has never seen the original question should be able to understand your paraphrase easily!
---
Want to know steps 6 – 10?
Are you enjoying this lesson? Then you can listen to the final 5 steps to IELTS paraphrasing success by listening to our podcast episode, where Nick I and I continue the conversation!