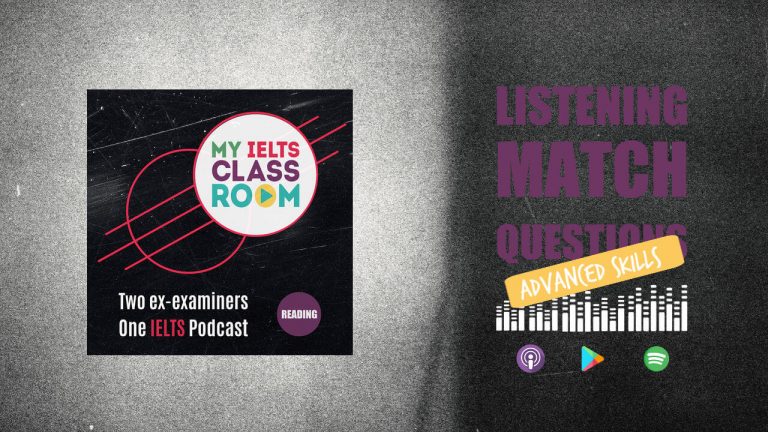 IELTS Listening Match Questions – Advanced Skills!
Hey! Way back in 2020, Nick and I discussed the basic techniques for completing IELTS listening match questions. However, these are some of the most difficult question in the exam, especially in Part 3, and we have noticed that many students still struggle answering them even when they know the basic principles.
That's why today, we want to share a more advanced technique that can help you deal with tricky questions in the exam. Plus, we will attempt one of the most difficult questions that we have ever seen in the new Cambridge 17 book – and you will come along with us for the ride.
This is an interactive episode so please have a pen and piece of paper ready so that you can join in the activities. 
Below, you can find a summary of the episode, which includes all of the links to useful materials and the times of each part of the discussion (so you can go directly to the part you want to listen to). You can also find every episode of the podcast here 🚀
Subscribe to My IELTS Classroom podcast on Apple podcasts here 
Subscribe to My IELTS Classroom on Google podcasts here
---
IELTS Listening Match Questions: The basics!
There is actually a lot to learn about IELTS listening match questions. For example, did you know that there are actually two types of matching questions? Those that ask you to choose from three options (which you can use more than once), and those that ask you to choose from six, seven or eight options (which you can use only once).
Or that the IELTS test-writers use key words from the possible answers in the box multiple times? So, for example, if one of the option sin the box is "shopping", you may hear the speaker use this word  two or three times in the recording, but it may actually be the answer to NONE of the questions. That is why listening for meaning is so important.
If you would like to know more about these basic skills (and more), you can listen to out original IELTS listening matching episode here: https://blog.myieltsclassroom.com/ielts-listening-matching-questions/. In the episode, we do a quick review of the most basic skills using this question: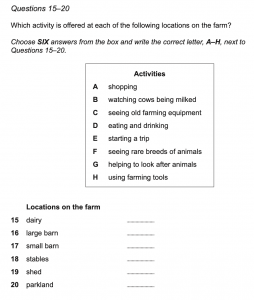 ---
IELTS Listening Match Questions: Advanced Skills!
Once you master the basic of IELTS Listening match questions, you should find that most of the questions in Part 2 are relatively easy to answer. However, when these questions appear in Part 3, they can still be difficult to answer even if you are using best practice. There are four main reasons for this:
In Part 3, there are 2 or 3 speakers, so you will have to be able to follow a conversation rather than simply understand a monologue. As the speakers often change their mind, it can be difficult to locate the final answer.
Many Part 3 questions focus on the FEELINGS or ATTITUDES of the speakers i.e. if they agree, or are surprised, or worried, or disappointed. Many students can find it difficult to recognise these emotions.
The conversations in Part 3 centre on much more difficult academic topics, and the vocabulary and grammar is often more complex too. This can make it hard to connect what you hear in the conversation to an answer in the box.
There is relatively little time to read and process all of possible answers in the box before the recording begins. This means that you will have to pick out the answer and match it to its paraphrase while you listen.
Obviously, with so much information to process, practice is the best way to improve with IELTS Listening Match questions. However, it is important that your practice is focussed. First, learn recognise when the speakers are signalling different attitude or feelings. You can learn how to do that in this blog post.
Then, focus on recognising the words that the speakers use to give each answer. Even if you are not able to connect these words t with their paraphrase in the box while you are listening, by jotting the words down , you may find that you are able to match the answers when the recording stops. This is a strategy that has saved me many a time in Part 3:
writing down the words that I am sure contain the answer while I listen, and then matching them to an item in the box after the recording stops.
There is a simple way to practice this skill. Find a Part 3 box matching question, read the instructions (so you know what you are listening for) and then listen to the recording without looking at the box. Make a note of the words of phrases that you think give each of the answers. Then, once the recording has finished, use those notes to see if you can pick out the answers to each item. Even better, see if you can predict the paraphrase that will be in the box before you check.
Obviously, I do not recommend that you use this technique for every answer in the exam. However, if you understand the conversation but are struggling to match it to an answer in the box, making a note of the words that contain the answer and try to match later can be a great strategy for one or two items. In the episode, Nick and I practice this technique for using question from Cambridge IELTS 17 Test 3, Part 3: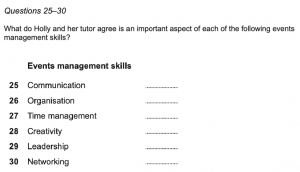 I will place the same questions with the box at the end of this blog post so that you can check your answers when you have done the activity with us in the lesson.
---
IELTS Listening Match Questions: Cambridge IELTS hell!
While I was preparing this lesson using the new Cambridge IELTS 17, I came across this question in Test Two, Part Three. I had the feeling that it was going to be difficult as almost item in the box asked us to recognise a different feeling or attitude. Worse, sometimes we had to recognise when the items disagreed (which is a very rare task).
Nick and I finish the episode by attempting this task. How did we get on? Join us in the lesson to find out (and more importantly, to complete the activity with us!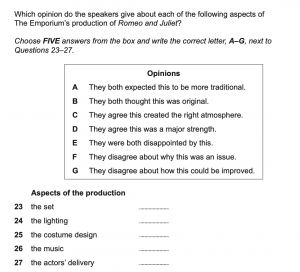 ---
Would you like expert help you improving your Listening?
We offer a 5-day intensive course for IELTS test-takers every month that covers all aspects of listening, from how to approach every type of question, to how to use key words to follow a lecture, and avoid the distractors in Multiple Choice questions. Even better, with every course having no more than 8 students and being run by an ex-examiner, you will be getting personalised advice that is guaranteed to help you to improve your score.
Find out more about the course and how it can help you hit your target score here.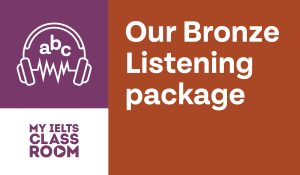 ---
Answer for Practice 2
Here is full question for the second activity in the lesson – how many important aspects were you able to recognise from your notes?