6 Real IELTS Essay Questions 2023
Hey! Every 6 months Nick and I like to generate ideas for essay questions that have been reported in recent IELTS exams. Today, we look at questions that our students have faced in January, February, and March this year. What do we think of the IELTS Essay Questions 2023? Well, you will need to listen to find out, but there are definitely some completely new topics and some old ones that have been given a facelift!
You are welcome to sit and passively enjoy the episode, but you will get a lot more out of the lesson if you actively take part.
So why not scroll down now and attempt to generate ideas for each question BEFORE you listen, so that you compare your ideas to ours?
Remember, the questions we will cover today are just a small fraction of those featured in this blog post, which I update every month to include the 50 most recent IELTS essay questions, so click if you want to find out what other topics are currently in use.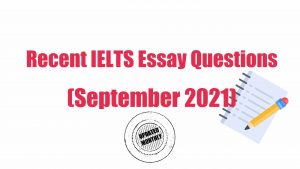 Below, you can find a summary of the episode, which includes all of the links to useful materials and the times of each part of the discussion (so you can go directly to the part you want to listen to) 🚀
Subscribe to My IELTS Classroom podcast on Apple podcasts here 
Subscribe to My IELTS Classroom on Google podcasts here
Become a Patreon to gain access to extra BONUS episodes here
---
Real IELTS Essay Questions 2023
Remember, these questions have been reported by our students. Therefore, the wording may not be 100% the same as the real questions. If you have a similar question in your IELTS test, ALWAYS read the question carefully to make sure that you understand it and can address all of the elements well. Good luck!
Some people think that water is the most important natural resource. Others believe that other resources (such as oil and gold) are more important. Discuss both views and give your own opinion.
Too much emphasis is placed on education. More government money should be spent on providing free-time activities. To what extent do you agree or disagree?
Celebrities and famous people require constant attention from the media (newspapers, Internet). Do you agree or disagree?
Many students find it harder to study at university or college than when they were at school. What are the reasons for this? What can be done to solve the issue?
Many places of natural beauty like mountains, lakes, and beaches are spoiled by the rubbish that people leave there. Why do people do this? What can be done about this problem?
In many cities and towns today, only a few people know their neighbours. What are the effects of this trend? What can be done to resolve the issue?
---
If you are new to IELTS writing and would like to find out more about how to structure your essays to maximise your score, why not watch our free Introduction to IELTS Essays lesson?