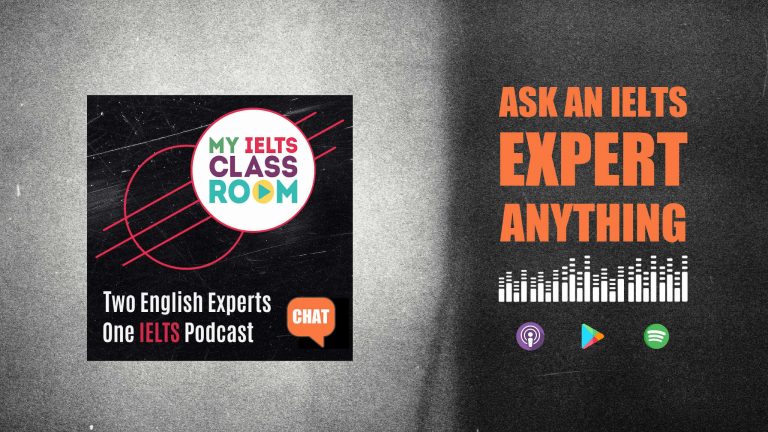 Ask an IELTS expert anything!
Yes! It is my favourite type of podcast episode – an IELTS question and answer session! Thank you to everybody who submitted a question on Facebook or Instagram (and if you are not following me there, you should be as I add free new material every week). If we don't cover your query today, don't worry – we will run another "ask an IELTS expert anything" episode again very soon!
This is a Patron Only Episode: Click here to support the show and gain access to the audio or continue reading to find out the questions we answer in the blog post below

https://www.patreon.com/myieltsclassroom
Below, you can find a summary of the episode, which includes all of the links to useful materials and the times of each part of the discussion (so you can go directly to the part you want to listen to) 🚀
Subscribe to My IELTS Classroom podcast on Apple podcasts here 
Subscribe to My IELTS Classroom on Google podcasts here
---
Podcast Summary: Ask an IELTS expert Anything!
00:00 – 03:20 Introduction – why we have had a busy week!
03:20 – END – Nick and I answer 12 IELTS questions from our listeners.
There is so much fake information online about IELTS that I think it is essential for people with genuine experience preparing students should do everything possible to get truth out there. So, today, Nick and I answer 12 of your IELTS questions to make sure you are 100% sure of what is expected of you in the test (all truth, no myths!)
We had over 40 questions from our students this month, but these are the 12 that we have chosen to discuss this time:
Why didn't the IELTS examiner take off his mask during my speaking test last week? (Kaur) 03:17
How should we tackle Headings Match questions? (Inniyaat) 06:39
What should I do to prepare in the final days before my exam? (Maimoona) 13:08 
Do I have to mention every piece of information in Academic Writing Task One? 15:46
Is it really true that we don't have to mention the bullets in Speaking Part 2? (Eclat Tutor) 21:29
Do you really need idiomatic language to reach Band 8 for lexical resource? (Deepika) 27:03
Why do I keep scoring a 6.5 in reading when I consistently get 35 correct answers when I practice from the Cambridge books? (Nihal) 34.22
Is the difficulty of the Cambridge books really the same as the real exam or not? 38.58
Are diagrams and maps common in Academic Writing Task One or not? 42:55
Will the Coronavirus be a topic in future IELTS writing and speaking tests? 46:33
Is it true that writing a balanced approach essay will automatically give you a high score? (Maimoona) 50:23
Which is the correct pronunciation of "either" and "often"? (Sivaraj) 57:10
If you want to take part in our next question and answer session, then you can email your questions to hello@myieltsclassroom.com. We particularly like recorded questions, so to increase the chance of your question being featured in the next episode, why not record it on your phone and send us the audio file? You don't need any special equipment, you can just use your phone.