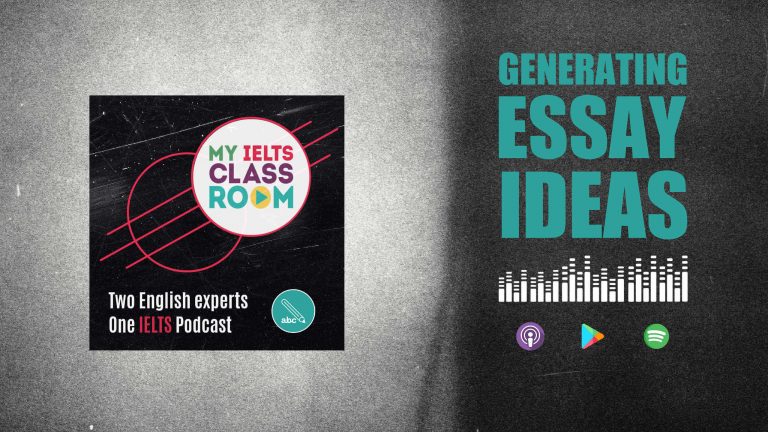 Generating Ideas for IELTS essays
One of the main problems that students face when they start IELTS Writing is generating ideas for IELTS essays. Today, Nick and I look at one way that you should definitely NOT use to find ideas, and then look at two simple approaches that you should. I also have a great blog post that discusses idea generation that you might want to read first before you listen.
This is a Patron Only Episode: Click here to support the show and gain access to the audio or continue reading about ideas generation in the summary of the episode below

https://www.patreon.com/myieltsclassroom
Below, you can find a summary of the episode, which includes all of the links to useful materials and the times of each part of the discussion (so you can go directly to the part you want to listen to) 🚀
Subscribe to My IELTS Classroom podcast on Apple podcasts here 
Subscribe to My IELTS Classroom on Google podcasts here
---
Podcast Summary: Generating Ideas for IELTS essays
I

ntroduction (Do Nick and I need to get a lawyer?)
Why you should not use the "Makkar" books to prepare for IELTS.
In general, I don't like to talk about other teachers or their preparation materials. However, I was recently sent a copy of the Makkar book, which contains reported questions from previous test and supposed "model" answers. What I saw, quite honestly, shocked and saddened me.
In these essays, I recognised mistakes that I have been correcting in my students' essays for years. There was a focus on using "strange" lexis,  no cohesion between any of the sentences at all, and, in most essays, the ideas were also off-topic.

Any student who uses these "model essays" as the basis of their preparation will struggle to get a score that is higher than a 6.0. However, these books are popular, which leads to the question, why are people relying on them? I think that it is probably more for "ideas" than language. However, as we have already said, the ideas in this book are often not relevant, so what can students do find ones that are?
The top-down approach: All IELTS essays are based on topics that you should be able to discuss using your own general knowledge. Too often though, student tend to look for outside sources to answer questions rather than using their own ideas. This is a mistake – more often than not the answers come from within! This is particularly true for questions in the General Training exam. Take this recent question for example:
In may countries, paying for things using mobile phone apps is becoming increasingly common. Does this development have more advantages than disadvantages?
I am sure that many of your have these apps on your phone, so to answer this you simply have to reflect on your own experience and ask "What do I find good about these apps?". Once you do that, you can keep digging deeper by asking more and more questions to focus your ideas further:
Why are payment apps good?

They are convenient.

Why are they convenient?

They store my information

Why is that convenient?

I don't have to carry my card separately at a shop or waste time entering my details online.
I find that students usually stop at question one while brainstorming for ideas rather than continuing to ask successive questions. This is a mistake. The more questions you ask, the better and more extended your final idea will be.
Asking questions to "reveal" answers can also be used to answer questions that you may not have real word experience of. Take this Academic prompt for example:
Some people think that schools should give prizes for academic successes. Others argue that it is more important for schools to give prizes for other achievements (for example, for sports, music and behaviour). Discuss both views and give your own opinion.
I think the first view is relatively easy to come up with answers for, but what about the second? Why would be want to reward other behaviours as well? Well, we should ask ourselves questions to find out:
Why should we reward other talents like sport and music?

Not everybody is academically talented. We should recognise other talents

Why should we recognise them?

It will make sure that all pupils in a class feel motivated in some aspect of their schooling

Anything else?

A few students may be able to use these other talents in their future careers

Why should we reward good behaviour?

School is not just a place to get knowledge, it is a place to learn how to socialise

Why?

Because we want adults who can interact and communicate with one another

Why?

It will ensure that even students with a pro score are able to function well in society when they leave school 
Do you see? The more questions you ask, the deeper you can go into your idea.
---
Want to know how the examiner will apply the band descriptors when marking your IELTS essay?
Then download a copy of our FREE e-book, which explains how each of the four marking criteria is applied and includes the most common errors made by test-takers. Just click here for your copy.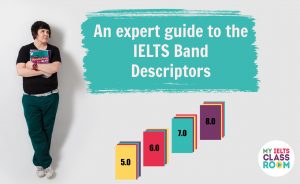 ---
The bottom-up approach: 
There are some questions, though, that are best approached in the opposite way. These are questions where you may instantly have one specific idea, which is not broad enough to form a whole argument. For example, for this question, the first idea the people usually have for the first view is "schools".
Some people think it is good for children to be brought up in a city. Others argue that it is better for children to grow up in the countryside. Discuss both views and give your opinion.
However, I don't think that you can talk about just schools in your essay (that would just be one sentence), so you need to step back and look at the wider picture. Why are schools in cities better? Probably because they have better teachers, more facilities, and a larger number of students from a range of backgrounds. Why is this good? It offers children a better educational opportunities. Moving back from a specific example to a general argument is a great way of exploring your ideas.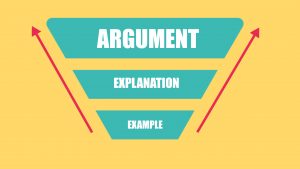 Social Trends:
There are some questions though that you might find difficult to answer and these are usually always those connected to social trends. I think that sometimes the writers in Cambridge forget that trends that are clearly seen in the UK and Europe may not be evident in other parts of the world. I remember a recent question in the Academic Test, which looked like this:
Today, many adult children choose to stay in their family homes instead of moving to their own apartment or house. Why is this? Is it a positive or negative development?
If you live in the UK, you would have instant ideas or this question (i.e. the cost of housing is so expensive that people are forced to stay at home) but in many countries this is not the case. Plus, in many cultures, it is common for people to live with their extended family throughout their lives, so the whole concept of the question is simply alien,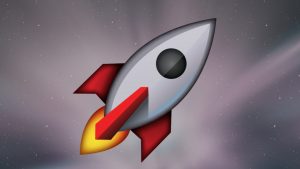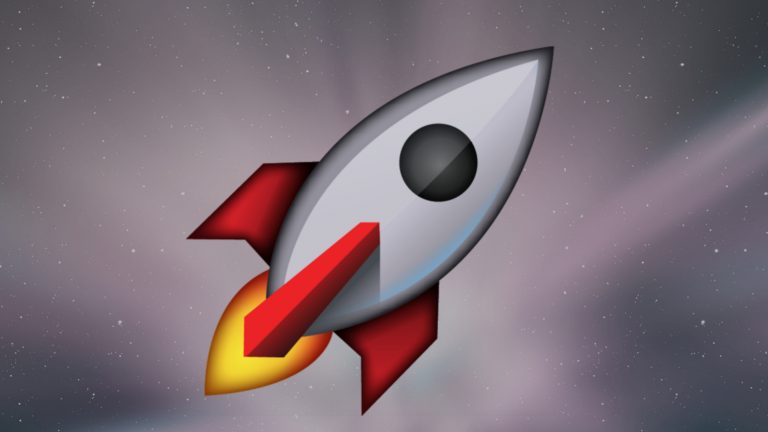 What can you do to make sure you have ideas then for every question? Well, my answer is PRACTICE. It is a good idea to work through the common topics, so you have some time to think about your views BEFORE you sit (and there is no shame in using Google to find out what they are!).
Working through my 100 essay questions can really help with this: http://blog.myieltsclassroom.com/100-ielts-essay-topics/. If you do, you will find generating ideas for IELTS essays becomes easier and easier!