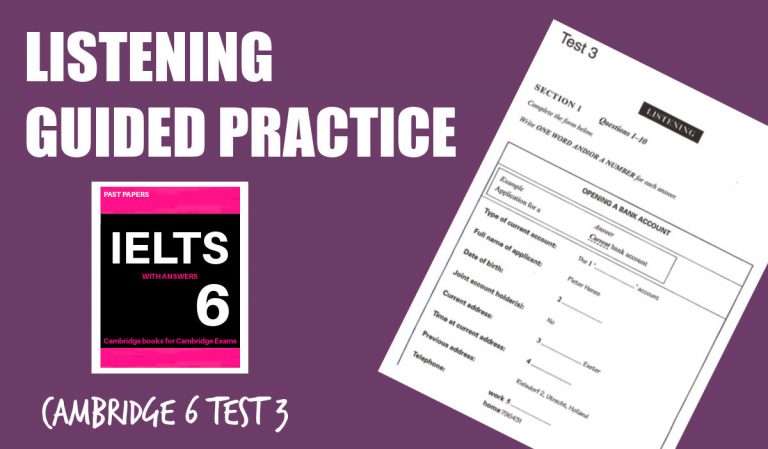 Let's do the IELTS Cambridge 6 Test 3 listening test!
Hey! Today, Nick and I are travelling back in time to complete the IELTS Cambridge 6 Test 3 listening test, which was first published in 2007. Why? Well, it's not because we were younger and better looking then, but because we want to give you a chance to experience the older IELTS test format, which seems to be making a come back in exam rooms.
This is an interactive lesson, so you can download the listening test that we use in this lesson here 
If you listened to our episode last week, you will remember that Nick and I discussed some small format changes that have been reported in the IELTS exam in 2023. If you haven't listed to that episode, don't panic, there are no major changes on the way, and many students may not even notice that there are slight differences in the listening and reading exams.
However, if you have been studying IELTS for a while and have been making good use of the Cambridge Past Papers, you could be forgiven for thinking that the same type of questions always appear in the same sections. For example, in books 12 – 17, all the Section 4 questions in the listening exam are note completion activities, so it is likely that most students have been using the notes to follow the lecture (which I teach in the lesson below!). Without those notes to structure their listening, students could easily become overwhelmed trying to tackle a new question, especially if they are doing so in an exam room!
However, in 2023, students have been reporting some small changes to the types of question that appear in Sections 3 and 4 of the listening exam, with multiple choice making a reappearance in Section 4, and table completion in Section 3. This is not the first time that the questions have been more mixed in the exam. Books 5 – 11 often had a range of questions in each Section, which is why I want us to go back to the IELTS Cambridge 6 Test 3 listening test today to practice a different format.
Nick and I are going to give you a chance to complete the test on your own, and then analyse each section to discuss the difficulty of the test and any new strategies students may need to perform well.
---
Would you like expert help you improving your Listening?
We offer a 5-day intensive course for IELTS test-takers every month that covers all aspects of listening, from how to approach every type of question, to how to use key words to follow a lecture, and avoid the distractors in Multiple Choice questions. Even better, with every course having no more than 8 students and being run by an ex-examiner, you will be getting personalised advice that is guaranteed to help you to improve your score.
Find out more about the course and how it can help you hit your target score here.