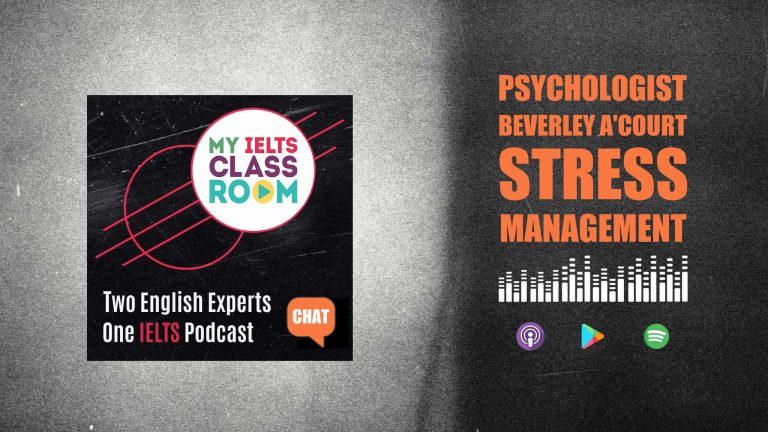 Psychologist Beverley A'Court on IELTS stress management
One thing I have learned while running My IELTS Classroom is that many students need as much emotional support from me as academic guidance. However, I sometimes feel that I do not have the skills needed to help my students who are dealing with failure and IELTS stress management. That is why today, I am so glad to be able to share this interview with the psychologist and art therapist Beverley A'court.
Beverley will take us through every aspect of stress and failure to give you (and me) some simple techniques that we can use to cope with these difficult emotions. So, if you are a student whose mental health is being tested by IELTS, then this is the podcast episode for you.
'Failure isn't the opposite of success, it is part of success.

(Arianna Huffington)
Below, you can find a summary of the episode, which includes all of the links to other useful materials from Beverley and the times of each part of the discussion (so you can go directly to the part you want to listen to) 🚀
Subscribe to My IELTS Classroom podcast on Apple podcasts here 
Subscribe to My IELTS Classroom on Google podcasts here
---
My IELTS Classroom Podcast Summary:  IELTS stress management and dealing with failure
00:00 – 05:57 Introduction – how I found out about the wonderful work of Beverley A'Court and why I wanted to invite her onto the podcast  
At the start of lockdown, I was introduced to the work of  Beverley A'Court by one of my friends who attended her lecture at an online art-therapy conference.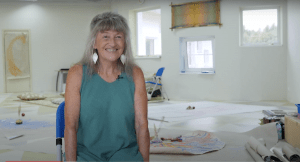 Recently, I had started to feel that I was maybe not equipped to help my students who are struggling with the mental pressure of IELTS. Yes, I have written blog posts about staying calm before your test, and dealing with IELTS failure, but I was never very confident in my advice and I knew that the help of a real psychologist could be a blessing for both myself and my students.
So, on the recommendation of my friend, I contacted Beverley to ask if she could come and talk to us about the topics of "stress and failure". From the moment we first spoke, I knew that she was going to offer a whole new level of support to my students, but I had no idea just how useful and insightful her advice would be.
I think that this is a life-changing resource for any student who is struggling with IELTS stress management or who is finding it hard to cope with "failure".
05:58 – END Interview with Beverley A'Court  
In this 60-minute interview, Beverley and I discuss a number of topics connected to stress and failure, and how they can affect your exam performance. Beverly also offers some simple activities that you can do at home to help manage these negative emotions. While some of them are breathing activities, others require you to have a pen and piece of paper, so make sure you have those to hand before you listen!
how natural stress is different to the stress that we feel in modern life
how

internal conversations

about the future and the past can create a cycle of stress (particularly in exams)
how you can use non catastrophizing language to reduce your stress (we will explain everything in the podcast!)
what physically happens to you when you are stressed (and how this can affect you in the exam room)
the three levels of attack that you can use to combat stress:

exercises that deal with the somatic (i.e. that deal directly with your body's reaction to stress), exercises that deal with negative self-talk, and art therapy)

. In the podcast, Beverly will show us some practical exercises on each level that you can use to start dealing with stress today.
how stress can make you narrow the focus of a question in an exam (and write off-topic in the IELTS writing test!) and reach for old ideas that you have used before (even if they are not relevant!)
the benefits of having plants and flowers in your study environment.
the difference between guilt and shame
how to STOP negative self-talk
how to deal with the pressure of family expectation
---
As an art therapist, Beverley recommends and demonstrates a number of simple art-based relaxation methods throughout the podcast. Whilst I did my best to clearly explain the techniques in the show, you may find it beneficial to WATCH our interview on the link below:
Benefit from more guidance from Beverley A'Court
Beverley is one of the kindest, most generous people I have ever met, and the hour I spent with her was an absolute delight. I can honestly say that I learned things about IELTS stress management and failure that will forever change the way that I interact with my students. I hope that you also found some comfort and guidance in her words. If you did, then why not benefit more from Beverley's knowledge, by looking at some of the useful videos she has on her YouTube channel. In fact, she kindly recommended the following videos for my listeners (to be watched in this order)
If you found any of these techniques useful, then please let me know and I will pass on the messages to Beverley, who I am sure will be thrilled. 
And, once again, remember, IELTS is one step in your life path, but it is not what defines you. And, if you are struggling to change your negative self-talk into positive, send me your list and I will help you. You are not alone. 🌿🌿🌿