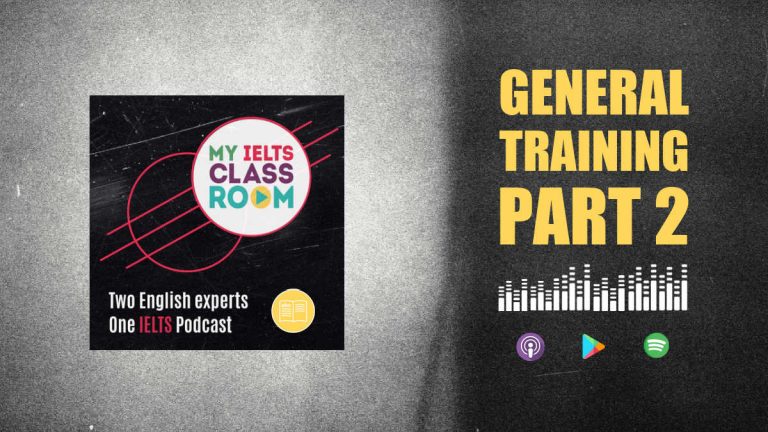 Everything you need to know about IELTS General Training Reading Part 2
I think that IELTS General Training Reading Part 2 is the most overlooked part of the exam. 99% of the time, teachers focus on the more difficult texts in Part 3, (which is understandable as this is where you could meet the dreaded Headings Match or Multiple Choice questions) or the True / False / Not Given in Part 1.
However, there are 13 points up for grabs in Part 2 and, as every text will focus on work or migration, a small amount of preparation can make a huge difference to the number of questions you can answer correctly (and the time it will take to do so). Today, Nick and I discuss the language your should learn to maximise your potential in Part 2, and how you should approach two types of completion activities that are common in this section.
In the lesson, Nick and I complete an IELTS General Training Reading Part 2 from Cambridge 16. You can download the passages and the questions by clicking here.
Below, you can find a summary of the episode, which includes all of the links to useful materials and the times of each part of the discussion (so you can go directly to the part you want to listen to). You can also find every episode of the podcast here 🚀
Subscribe to My IELTS Classroom podcast on Apple podcasts here 
Subscribe to My IELTS Classroom on Google podcasts here
Become a Patreon to gain access to extra BONUS episodes here

---
IELTS General Training Reading Part 2: Introduction
In IELTS General Training Reading Part 2, you will need to complete 13 questions based on two passages. Just like Part 1, you are being tested here on your ability to function in an English speaking country. However, unlike Part 1, all of the questions now will focus on work rather than day-to-day life.
If you are new to IELTS, here are some examples of the type of texts you may be asked to read in IELTS General Training Reading Part 2:
Advice about getting a job e.g. how to write a CV, where to find a job, how to update your skills, how to make a good impression in an interview, etc
An advertisement for a job e.g. a job description with specific working conditions
Advice on how to be a better manager or employee e.g. time-keeping, how to delegate, how to make a good impression when you start a job, working for a small business, how to make your working day more enjoyable, etc
Health and Safety in the workplace e.g. a description of the specific behaviour you will need to follow in a workplace to comply with health and safety
There is a term in language-learning calls "positive backwash". This refers to the positive side-effects that preparing for an exam can have on students, and I have to say, if you prepare for this part of reading test well, you really could learn skills that will help you once you move abroad. Why?
The lexis in IELTS General Training Reading Part 2 is repetitive and genuinely useful!
In other words, if you can learn some basic employment vocabulary, you will be able to complete Part 2 with relative ease AND you will have a head start when you arrive in the UK, Canada, or Australia and apply for a job.
---
IELTS General Training Reading Part 2: Useful Lexis
Obviously, IELTS does not supply a list of lexis that is useful in IELTS General Training Reading Part 2, but here is a short list to get you started. These words have all been taken from previous tests in the Cambridge IELTS books, and Nick and I discuss their meaning in the podcast:
Types of Pay:  Income, salary, wage, pay
Types of Job: Permanent, part-time, short-term contract, long-term, self-employed, retired / remote working / over-time
Ways to leave a job: to be fired, to be sacked, to be made redundant, to be laid off, to resign, to retire
Types of leave: annual  leave, carer's leave, maternity leave, paternity leave, sick leave, long-service leave
Types of dress: formal, smart, casual, semi-formal, a uniform, protective clothing, a helmet, high visibility jacket
You will also find that there are a lot of technical of legal words tested in IELTS General Training Reading Part 2. Sadly, if you do not know the meaning of these words, you may not be able to answer the questions. It is harder to make a list of these as there are so many possibilities.
Therefore, I would encourage you to start highlighting the words that you do not know in the passages in Part 2, and writing them in your vocabulary book. Here are some to get you started:
to be exempt: Those over 65 are exempt from the policy.
to make a claim: You can claim for maternity leave using form C86.
proof: You will need proof of address to apply for an account.
staff retention: Staff retention is important in our company, which is why turnover is so low.
consent: Your company needs your ask for your consent to film you in the workplace.
confined space: You will need to be able work in a confined space.
---
IELTS General Training Reading Part 2: Question Types
Most questions in IELTS General Training Reading Part 2 tend to be either completion (table, note, process, sentence) or short-answer. In today's lesson, we will focus on two types of completion: table and sentence. In the lesson, we will discuss the best practice for approach these questions in great detail, but here is a simple overview:
Questions will follow the order of the text
Check how many words you can use – remember that if you can two words, that does NOT mean that every answer will be two words, but ONE question will definitely be.
Look for synonyms of the words in the questions in the passage. Once you find them, you are close to the answer
Make sure that the words you choose as the answer complete the sentence correctly i.e., your sentence should be grammatically correct
NEVER change a word that you choose from the text – if your word does not fit the sentence, it is not the correct answer
Make sure that any words that you choose do not repeat words that are already in the sentence – be particularly carefully not to choose words that are synonyms of words in the sentence
If you have a table, use the headings / cells in the tables to help you follow the text. You may find that you do not need to read the whole passage.
Would you like expert help to improve your IELTS reading score?
We offer a 5-day intensive course for IELTS test-takers every month that covers all aspects of reading from how to approach every type of question to how to "read one, read well" to manage your time more effectively. Even better, with every course having no more than 8 students and being run by an ex-examiner, you will be getting personalised advice that is guaranteed to help you to improve your score.
Find out more about the course and how it can help you hit your target score here.