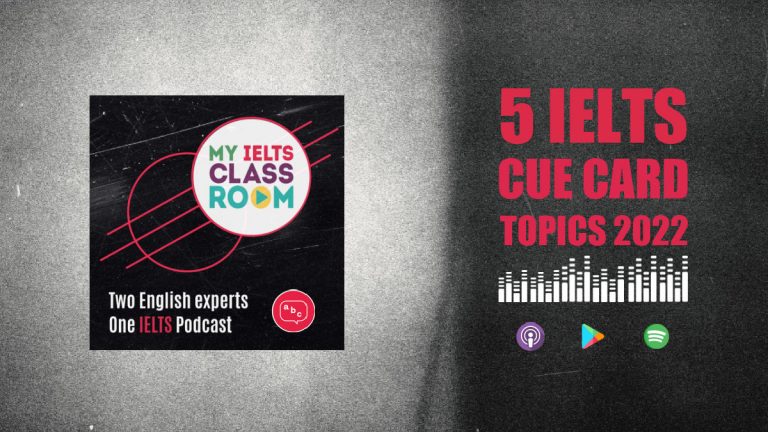 5 IELTS Cue Card Topics 2022 Analysed
Hey! IELTS is well-known for recycling the same topics for Speaking Part 2 again and again. However, they do sometimes introduce new topics into the exam, which can confuse some students. Today, Nick and I analyse 5 new IELTS Cue Card topics 2022 to show you how you can come up with ideas quickly for ANY topic. Plus, we will provide model answers for two questions.
Subscribe to My IELTS Classroom podcast on Apple podcasts here 
Subscribe to My IELTS Classroom on Google podcasts here
Become a Patreon to gain access to extra BONUS episodes here

---
Are you new to IELTS Speaking Part 2?
If you are new to IELTS, you may find the idea of talking for two minutes without any interruptions a bit strange. You are not alone! it is definitely not a skill that is used in every day life very often, and one that you will need to practise before your exam day.
Luckily, we have got several lessons on our blog that can help you build the skills needed to perform well. Here are links to the four most popular:
I would complete the lesson in the order that I have given them above. The key thing is to remember that you don't ned to include all of the information in the bullets – you just have to speak about the topic for two minutes!
---
 IELTS Cue Card Topics 2022
Once you have mastered the basics of IELTS Speaking Part 2, it is time to start practising. One key aspect of this is making sure that you have good ideas for the common IELTS topics.
However, while IELTS tends to use the same topics again and again, there are always 4 or 5 new topics introduced every 3 months, which may require you to think on your feet in the exam.
Today, Nick and I will look at five new IELTS cue card topics 2022 to show you how you can find ideas quickly. One great way to approach a tricky question is to see if you can bring the cue card topic back to something that you are very familiar with. For most students, this would mean talking about their work, studies, family, friends, or a hobby. You will be surprised how many cue card topics can be "bent" to discuss these things!
Anyway, these are the questions that we are going to discuss in the lesson. Have a look at them now and think about what you would talk about if you were given these cue cards. Then, listen to the episode to find out the advice Nick and I give for each:
a time someone asked for your opinion
a good invention which made a positive change
a neighbour you know who is interesting
a special day out which was inexpensive
a time when you were stuck in a traffic jam