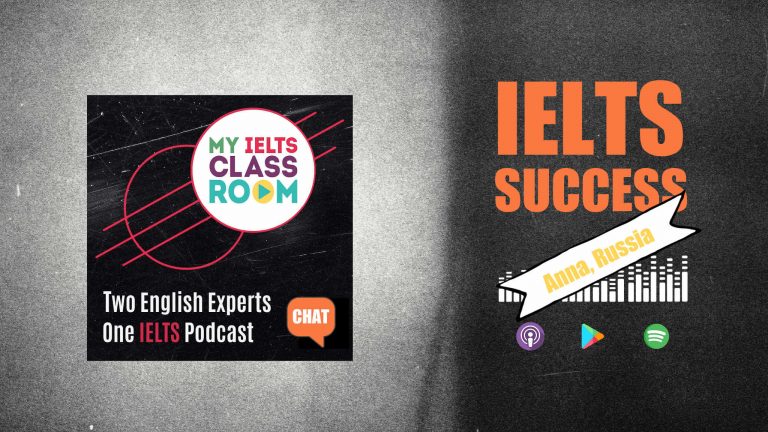 Student Success: Anna – IELTS Band 9.0
Achieving a IELTS Band 9.0 is very special indeed. I am not sure of the official figures, but my guess is that less than 1% of test-takers receive this score each year. Having a Band 9.0 shows not just that a student has a C1/C2 level of English, but that they have excellent academic skills and are able to perform well under pressure.
More importantly, if you are a non-native teacher, then having an IELTS Band 9.0 can be absolutely life-changing as it means that the path to becoming an examiner is now open. Plus, you have a way to show potential students that you are a genuine authority on IELTS and that your guidance can be trusted.
Today, we have the pleasure of interviewing Anna Pakhomova who achieved an overall Band 9.0 in May 2021, with the individual scores of 9, 9, 8.5, 9 (the 8.5 is for writing). Although Anna is a big fan of the podcast and we had one mock speaking test before her exam, her success really is her own. She devoted 9 months to improving her IELTS score and in the process found the good the bad and the ugly sides of IELTS preparation (no – we are not the ugly, we are the good!)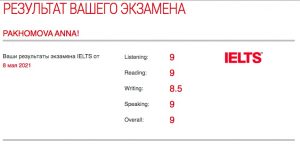 So, today, listen to my interview with Anna today to find out the paths her journey took her on, and what advice she would give to test-takers who are hunting the elusive IELTS Band 9.0. Trust me – it's a good one!
Below, you can find a summary of the episode, which includes all of the links to useful materials and the times of each part of the discussion (so you can go directly to the part you want to listen to) 🚀
Subscribe to My IELTS Classroom podcast on Apple podcasts here 
Subscribe to My IELTS Classroom on Google podcasts here
---
Want to know how the examiner will apply the band descriptors when marking your IELTS essay?
Then download a copy of our FREE e-book, which explains how each of the four marking criteria is applied and includes the most common errors made by test-takers. Just click here for your copy.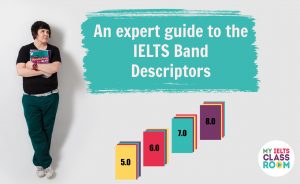 ---
IELTS Success: Anna – IELTS Band 9.0
0:00 –  03:41 Introduction (An update on the motivation challenge)
03:42 – 27:07 An introduction to Anna Pakhomova and why we are chatting today
When Anna emailed me to let me know the amazing news about her IELTS Band 9.0, I asked if I could share her results on our Facebook page. This was Anna's response:
Hi Shelly!

Thank you so much! Sure you can share my scores with your audience, I'd be honoured! I'd just like to add that it was your blog, podcast and the mock test that helped me stay on track and not follow any nonsensical guidelines and tips that are out there on the Internet. Knowing I was following expert advice really gave me a sense of confidence that made these scores possible.
The phrase that interested me most was this – " it was your blog, podcast and the mock test helped me stay on track and not follow any nonsensical guidelines and tips that are out there on the Internet".  I was intrigued – what nonsensical guidelines had Anna come across in her IELTS journey and what tips had she seen that could have damaged her score?
I replied asking for more details. I didn't know what I expected Anna to tell me, but her  reply was a massive eye-opener. I don't want to spoil the episode, so you will need to listen to find out exactly what happened to Anna on her epic IELTS journey, but here are some of the topics we discuss:
Why getting a band 7.5 does not really qualify somebody to teach IELTS
How some teachers claim to be current or ex-examiners but have little or no real knowledge of the test
The dangers of purchasing IELTS essay "templates"
Trust me – what Anna tells me in this section is absolutely fascinating with tales of not just "white lies" but genuine fraud!
08:17 – 1:02:67 – Interview with Anna Pakhomova
Sit back and listen as Anna and I talk about all things IELTS. We start by going through each of the experiences she had with different online teachers / courses, and end  with a discussion of how Anna was able to achieve her dream score of IELTS Band 9.0.
There are a lot of great tips here for any test-taker, but I think the main takeaway was that it didn't happen overnight. Anna worked hard on her English for 8 years to move from an impressive score of 8.0 at 16, to a 9.0 eight years later.
I think that this is something many test-takers fail to recognise – the move from C1 to C2 is a long slog! Interestingly, Anna also talks about the positive influence that teaching IELTS had on her performance as well as the importance of keeping abreast of of social issues. It is all very fascinating (and a great chance to hear a sample of Band 9.0 spoken English!)
 1:02:67 – END Closing comments
---
If you want to be my next student success, then let me take you by the hand and lead you through IELTS writing. You can find all of our live and video courses on our main website www.myieltsclassroom.com, which is where you can also sign up for our IELTS essay correction service or book a personal lesson with Nick or I. 🚀