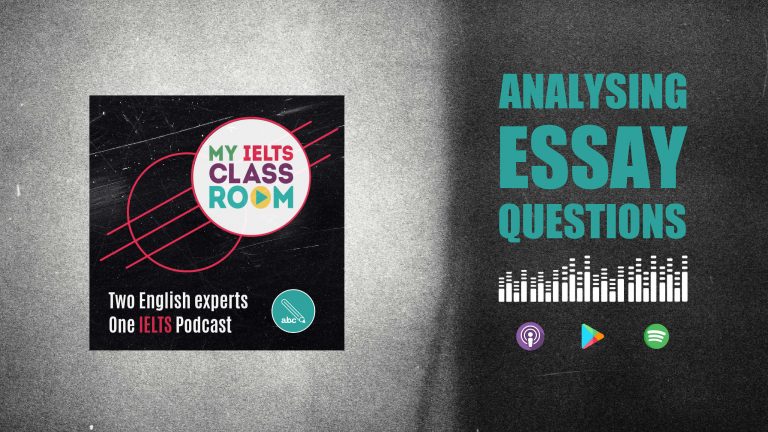 Analysing IELTS Essay Questions
Every week I get questions from students asking how they can generate good ideas for essays. Usually, my advice starts from the point of thinking of ideas, but this week I realised that many students are skipping a vital step before that – analysing IELTS essay questions to make sure they 100% understand what exactly they are being asked to address. This is a mistake!
Today, Nick and I look at 6 common types of question that are often misinterpreted by students. We will show you what he words are that signal these questions and the ramification that has for the ideas that you will brainstorm. After all, if you don't understand the question correctly, there is a high chance you will go in completely the wrong direction and end up with a 6.0 for Task Response.
Below, you can find a summary of the episode, which includes all of the links to useful materials and the times of each part of the discussion (so you can go directly to the part you want to listen to) 🚀
Subscribe to My IELTS Classroom podcast on Apple podcasts here 
Subscribe to My IELTS Classroom on Google podcasts here
Become a Patreon to gain access to extra BONUS episodes here

---
The importance of analysing IELTS essay questions
This week, I finally understood the importance of analysing IELTS essay questions correctly. Let me explain what happened.
On Friday, I ran a 60-minute live lesson to help my students to practice generating ideas for IELTS essays. As a warm up activity, we looked at 6 recent IELTS questions and tried to pinpoint the potential difficulties or "pitfalls" that test-takers may have answering each of them. Honestly, I was surprised at how difficult my students found this.
Sure, they were able to recognise difficult topics (I mean, who would want to write an essay about international charity?!), and to identify the "type" of essay that they were being asked to write, but very few were able to spot the "hidden" problems contained in many of the questions.
This made me realise that one of the reasons students struggle generating relevant ideas is that they are not analysing IELTS essay questions correctly in the first place. 
Take this question for example. When I read it, there is one point that jumps out immediately. One thing that I would have to make sure I did when answering this question to be sure that I addressed the question fully. Have a look to see if you can spot it too:
Due to population growth many people these days live in apartments with limited space and no outdoor areas.

Do the advantages of this trend outweigh its disadvantages?
Well? What do you think? What might a student easily overlook when writing this essay which could lower their Task Response score? What is the "pitfall"?
For me, it is failing to include the two specific TWO specific elements mentioned in the the question.
apartments with limited space and no outdoor areas.
That's right. Not just apartments with no gardens. Not just apartments that are small, but BOTH elements. If you overlooked one and only gave the benefits and drawbacks of small apartments, but failed to talk about outdoor areas (or vice versa), you would not be 100% addressing the question that you were given, and so your essay will be considered "off-topic". And, what do off-topic arguments equal?
A maximum of 6.0 for Task Response, which is something none of us want.
Essay questions that require you to look at two elements are common and are, perhaps, the number one reason why even good students can receive a low score. Plus, it is not only the topic of the essay that may contain two elements, it can actually be the question itself. Take this problem solution question for example.
Nowadays in many countries traditional customs are becoming less popular than in the past.

Do you agree or disagree?

What can parents and teachers do about this?
Here, the question clearly asks for solutions that both parents and teachers can offer. If you wrote about onl one, for example about how parents can model traditional behaviour at home in terms of dress and cuisine, then you would still be off-topic even if your ideas are relevant and extended. Why? Because you are only answering 50% of the question!
---
Discover the secret to writing a Band 7.0+ essay
Then download a copy of our FREE e-book, which explains the most common errors made by test-takers and how you can avoid them. Just click here for your copy.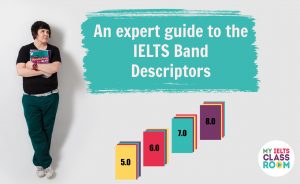 ---
5 more things to look out for when analysing IELTS essay questions
This is just one simple example of why analysing IELTS essay questions carefully before you start generating ideas is so important. As you can see small changes in wording can make a big difference to the type of information that you are expected to include in your essay. Getting it wrong and misunderstanding the question at this stage could see you driving down a one-way street in the wrong direction and throwing away valuable points.
So, join Nick and I today to look at 5 more common styles of question that are often interpreted incorrectly by students:
Future prediction questions
Social change questions
Self-Definition questions
Should questions
Key-word questions
If you found this episode useful, make sure you subscribe to take advantage of our free weekly podcast. I mean, where else can you find free lessons from two ex-examiners delivered straight to your phone each week? 🚀
Want more help with ideas generation? Read this blog post to learn about the bottom up and top down approaches