IELTS Dentist Success Story, Zina!
IELTS Dentist Success Story, Zina!
Hey! If you are a dentist who would like to register with NHS England, you will need to provide proof of your level of English. One way that you can do this is to provide an IELTS certificate showing an overall score of 7.0, with a minimum of 6.5 in each category. Although this score is slightly lower than the one needed by doctors who want to resister for PLAB, it is still a very high score for test-takers, even those who have a very high level of English.
Today, I talk to Zina, a dentist from Iraq, who has recently managed to achieve these scores and is now in the processing of registering with the NHS. However, Zina's IELTS journey was not an easy one, and provides a great example of however when students do everything "right" they can still end up with the "wrong" result despite their best efforts. To find out what happened and the lessons and motivation that you can gain from Zina's IELTS dentist success story, listen to today's podcast!
Below, you can find a summary of the episode, which includes all of the links to useful materials and the times of each part of the discussion (so you can go directly to the part you want to listen to) 🚀
Subscribe to My IELTS Classroom podcast on Apple podcasts here 
Subscribe to My IELTS Classroom on Google podcasts here
---
IELTS Dentist Success Story, Zina!
00:00 – 04:33 I

ntroduction (We have reached 50,000 downloads!)  
In less than a year, the My IELTS Classroom Podcast has ben downloaded more than 50,000 times. I cannot tell you how proud Nick and I are of this statistic! Podcasts are not the most common form of media, but it is one that we love and feel has a lot to offer ILELTS students. THANK YOU to each and every one of you who has tuned in to an episode – hopefully we can continue to grow and make more useful lessons in the years to come.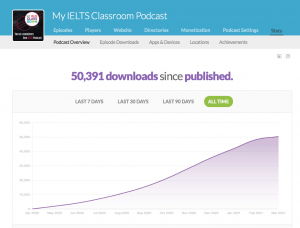 04:34 – 13:25 How we work with 

students

 whose target score is a 6.0 or lower
99% of adverts for IELTS courses promise to deliver a Band 7.0 or high (which we all know is ridiculous as no teacher can guarantee a student a score without knowing what their starting level is!) However not all students need such a high score in the exam. In fact, for many reaching a 5.0 or a 6.0 is a life-changing achievement and one that deserves no less celebration than those who get a 7.0 or higher. Nick recently worked with a Russian student named Yulia who needed to score a 5.0 in all areas to support her husband's Australia visa application. When Yulia started lessons with Nick, she was around Pre-Intermediate level (i.e. a 4.5). What was her finishing score and what did Nick do to help her reach them? You will need to listen to find out!
13:25 – END Interview with IELTS Dentist, Zina
If you had a friend who was just starting their IELTS preparation, what would you recommend they do? Well, I guess that will depend on where you friend lives, what their current level of English is, and what their financial and time constraints are. Zina was lucky – she lives in London and could afford to enroll of the expensive 28-day intensive course recommended to her by a colleague. You would think that studying at an expensive school in the heart of England would mean that you would get the best possible teaching experience – however, this is not what happened with Zina. In fact, if Zina's journey can tell us anything, it is that even when you take all of the right "steps" you may still not be on the right path.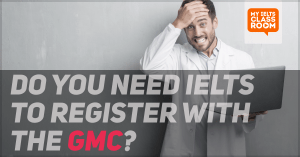 This would be frustrating for any student, but like so many of the people I work with, Zina is also a mum who has to take full-responsibility for raising her daughter while also trying to study for IELTS. I always have so much admiration and respect for any student who parents while studying – I know that this is never easy. Anyway, after 7 moths of staying at the same score, Zina finally found My IELTS Classroom thanks to my blog post about requesting an EOR.That is where the end of her journey began. Fid out more about exactly how we helped her in today's episode.
---
If you want to be my next student success, then let me take you by the hand and lead you through IELTS writing. You can find all of our live and video courses on our main website www.myieltsclassroom.com, which is where you can also sign up for our IELTS essay correction service or book a personal lesson with Nick or I. 🚀