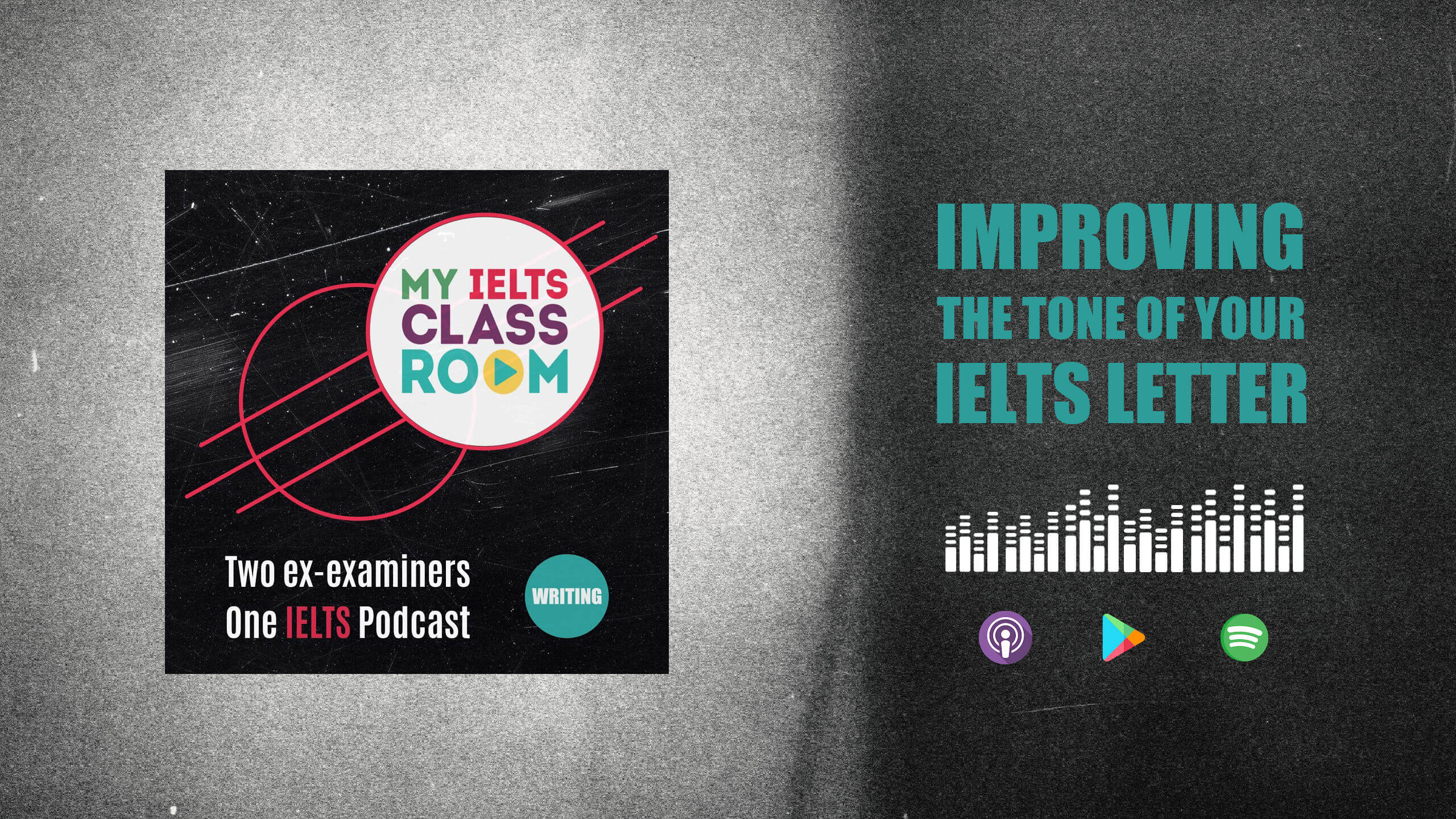 My IELTS Classroom Podcast 27: Taking your IELTS Letters to the next level!
Taking your IELTS Letters to the next level!
Hey. Do you know the difference between a good IELTS letter and a great one? The tone! Writers who are able to engage with the question and write IELTS letters that feels AUTHENTIC are those who walk away with a 7.5 or an 8.0 for General Training Writing Task One instead of a 6.5 or 6.0. Today, Nick and I are going to focus on how you can analyse the prompt to make your formal and semi-formal letters feel as genuine as possible. And, if you are an Academic student, DON'T SWITCH OFF! There is a lot to learn here about engaging with an IELTS question that can help you with your essay writing (and also, the lesson is just a lot of fun!)
Below, you can find a summary of the episode, which includes all of the links to useful materials and the times of each part of the discussion (so you can go directly to the part you want to listen to) 🚀
Subscribe to My IELTS Classroom podcast on Apple podcasts here 


Subscribe to My IELTS Classroom on Google podcasts here
---
Podcast Summary: Taking IELTS Letter to the next level!
00:00 – 04:09 Introduction (How is the new My IELTS Classroom 

development

 progressing? Slowly!)
04:10 – 07:09 IELTS Letters: The Basic Facts  Today, Nick and I are going to take a detailed look at how analysing the prompt can affect the tone of your response, but before we do, let's go through some basic facts about IELTS letters.
In the General Training Writing Task 1, you will need to write a letter based on a prompt.
Each prompt starts with background information about the context of the letter and contains three bullet points of details that you must include in your letter.

It is extremely important that you mention every piece of information

– if do not, you will automatically get a low score for Task Achievement!
Your letter should be

at least 150 words long

.

Every letter will require you to use language to perform a range of different functions 

– you may be asked to make requests, offer advice or make suggestions, thank people, explain a situation, give news, make an invitation, apologise, or complain (and anything else IELTS decides to add!)
You will also need to know how to

adapt your language to change the register

– IELTS letters can either be formal, informal, or semi-formal.
07:10 – 10:14 The importance of addressing all parts of the bullets I cannot stress how important it is to make sure you 100% address the bullets in the task. In particular, be careful of plurals i.e. if a bullet says "you had some problems" – then you MUST describe more than one problem in your letter or you will automatically receive a 5.0 for Task Achievement.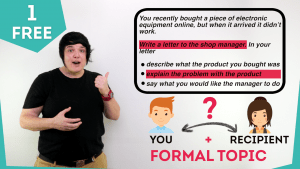 In the same way, if one bullet asks for two pieces of information (like a time and a place to meet) you MUST give both or you will, again, but kept at a 5.0. I discuss this in great detail in my first FREE video lesson about General Training Task One. If you have not watched that yet, I strongly recommend you do so as it cover all of the basics of IELTS letters in much more detail than Nick and I do today.
Also, I think that in order to address the bullets in sufficient detail, you are going to have to write far more than the 150 word minimum limit. I think being somewhere between 180 and 200 is the optimum length, but you can read more about this here.
10:15 – 18:38 The importance of tone Poor tone is the number one reason why students fail to get a high score for their IELTS letters. What is tone? It simply means everything your letter should feel like it written in the correct register. For example, if you are writing a letter to a friend, you will need to use informal language throughout your letter – from the very first word to the very last. In contrast, if you are writing a letter to a company for, then you will need to make sure that your essay is formal throughout. If mix formal and informal language together, this is called a mixed tone letter and will result in you getting no more than a 5.0 for Task Achievement. in fact, even one of two minor inconsistencies in tone will result in you getting a 6.0.
In my experience, students struggle most with tone in informal letters.
I think this is because students spend so much time practising essay writing that they forget that it doesn't sound natural write to a friend in the same style. I mean, would you really every say this in an email to one of your mates?
"I am writing to inform you that I am having a party".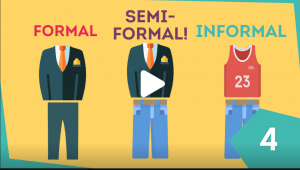 So why would you write it in an IELTS letter? Actually, there are lot of very simple rules that you an apply to your language to make sure that it is in the right tone. Again, I have a whole video lesson devoted to this. It goes through the use of contractions, transition signals, phrasal verbs, discourse markers and every other language feature that you can alter to change from one register to the other.
If you are not aware of how you can change your language to change your tone, then I beg you to watch it now! Learning these simple rules can have a drastic effect on your score, and it genuinely saddens me how many of these ky principles high-level students are unaware of!
However, once you know the basic principle of IELTS letters, I think that the best way to write a letter with a clear tone is to imagine that the letter is real. Imagine you really are in the situation described at the start of the prompt and you really do need to write this letter. How would you feel? What details would you want to include? How will you get the desired result from this letter best.  If you spend a couple of moments thinking about this, your letter will not only naturally sound genuine, but you will also engage with the task more and extend your repose appropriately.
Obviously, when you are asked to write an INFORMAL letter, the easiest way to do this is to simply picture a  that you are writing to a real friend. I don't know why, but every time I write an IELTS letter, I picture that i am writing to my good friend Dan. Seriously, just having his name and face on my mind makes it very easy to write a letter than is naturally informal.
But how can you make formal and semi-formal letters feel natural? Well, that often means that you really have to engage with the background description and the bullets.
18:39 – END Analysing Formal and Semi-formal prompts So, for the rest of this episode, Nick and I are going to analyse the following IELTS letter prompts to explain how the background information would change our approach to each letter letter. In other words, we are going to imagine that the situation in the letter is real, and then we are going to explain how that will affect not just the content of the IELTS letters, but the TONE in which we approach it.
18:40 – 25:52 You work at home and have a problem with a piece of equipment that you use for your job. Write a letter to the shop or company which supplied the equipment. In your letter:

Describe the problem with the equipment
Explain how this problem is affecting your work
Say what you want the shop or company to do
25:53 – 33:32 You recently organised an all-day meeting for your company, which took place in a local hotel. In their feedback, participants at the meeting said that they liked the hotel, but they were unhappy about the food that was served for lunch. Write a letter to the manager of the hotel. In your letter

Say what the participants liked about the hotel
Explain why they were unhappy about the food
Suggest what the manager should do to improve the food in future
34:05 – 40:12 You have seen an advertisement in an Australian magazine for someone to live with a family for six months and look after their six-year-old child. Write a letter to the parents. In your letter

Explain why you would like the job
Give details of why you would be a suitable person to employ
Say how you would spend your free time while you are in Australia
40:13 – 47:22 During a recent plane journey, you sat next to a businessman who owns a chain of restaurants. You talked to him and he suggested that you should contact him about a possible job in one of his restaurants. Write a letter to this businessman. In your letter

Remind him when and where you met
Tell him what kind of job you are interested in
Say why you think you would be suitable for the job
47:23 – END You have just read an article in an international travel magazine which contained some information about your town that is incorrect.

Write a letter to the editor of the magazine. In your letter

Correct the information in the article
Explain why it is important for the magazine to give correct information
Suggest what the magazine should do about this situation
If you want to practice analysing recent IELTS letter questions, then why not take a look at 20 prompts that were reported from recent exams and which I have edited to be as close to the original questions as possible?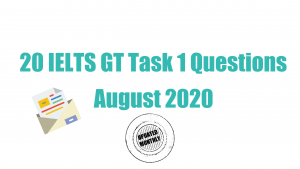 ---
You can find all of our video lessons, including a full 11-hour course on General Training Writing Task one, on our main website www.myieltsclassroom.com. This is where you can also sign up for our IELTS essay correction service or join one of our writing packages. 🚀