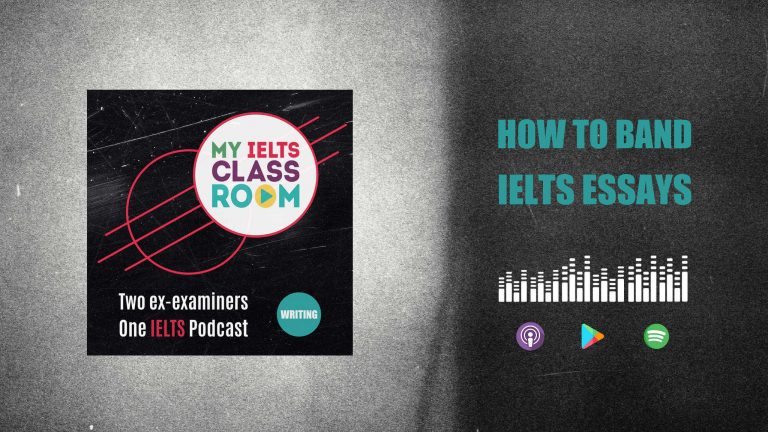 How to band IELTS Essays
How to band IELTS Essays
Hey! This week I got an email from a student which made me stop in her tracks. She had send her essay to a  teacher who had given her a  score of 7.5 and she wanted to know if this was correct. Usually, I don't like to get involved with other teachers' marking, but out of curiosity I had a look at the essay and the "marking". What I saw shocked me. Clearly the "teacher" had no idea how to band IELTS essays (and no morals based on the feedback that they gave!)
So, in today's episode Nick and I go through that essay together to discuss what score we would have awarded it for each of the 4 marking critieria. In the process, we discuss the basics of banding IELTS essays and teach you how to apply each of the bands yourself. This is not a definite guide to the band descriptors, but an interactive lesson that will show you the band descriptors in action.
If you are looking for a more in-depth guide to the band descriptors, then I would recommend that you download my free e-book "An ex-examiner's guide to the IELTS Band Descriptors" It goes through all 4 band descriptors in detail and highlights the 5 most common errors test-takers make in each.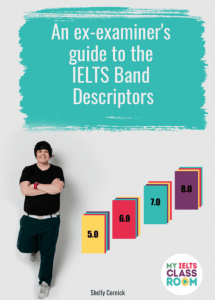 Below, you can find a summary of the episode, which includes all of the links to useful materials and the times of each part of the discussion (so you can go directly to the part you want to listen to) 🚀
Subscribe to My IELTS Classroom podcast on Apple podcasts here 
Subscribe to My IELTS Classroom on Google podcasts here
---
Podcast Summary: How to band IELTS Essays
00:00 – 3:13 – Introduction (Nick and Shelly are fat from eating frogs 🐸
03:14 – 27:07 –

The vague beauty of the IELTS Band Descriptors
Before we start learning how to band IELTS essays, I think it is worth taking a moment to consider what a powerful tool the band descriptors are. Somehow, IELTS managed to produce one sheet of A4 paper that had the power to mark any of the thousands of essay types and topics written every day by students all over the world. Think about it. It doesn't matter if you write a Discuss Both Sides essay in Dubai or a Problem Solution essay in Paris, the examiner will use the same document to give you an accurate and fair score. Amazing!
The downside of having one universal document for every type of essay is that, at first glance, the band descriptors can appear vague. I understand this concern. I felt the same way before my examiner training. However, there is nothing "missing" from the public band descriptors. There is no "secret" or "hidden" information given to examiners that unlocks their potential (trust me, the pubic version is 99% identical to the actual one used by examiners). All you have to do is learn to apply them correctly.
And for me, that means learning how to band IELTS essays neutrally
What I mean by this is that you have to forget about the way that you teach IELTS when you band. Being an examiner is NOT the same as being a teacher. We all have ways of guiding our students to satisfy the band descriptors, but the band descriptors are broad. They allow for many different styles and approaches. So, even if you are banding a student who has written in a style that is different to yours or who has approached the essay in a way that you don't think is best, you cannot penalise them when you band. Remember, the bands have no feelings and no preferences! All they ask is to be satisfied <em>(I know that all sounds very "zen" but it is true!)</em> This is why I get angry when some teachers say that there is ONLY ONE WAY to approach an IELTS essay or letter or report – this is not true! 🙅‍♀️🙅‍♀️🙅‍♀️
The band descriptors are flexible enough to allow multiple approaches, which is something that needs to be made well know and should be celebrated.
27:08 – End –

How to band IELTS essays
For the remainder of the episode, Nick and I will go through each of the four marking criteria and give the essay below a band score for Task Response, Coherence and Cohesion, Lexical Resource, and Grammatical Range and Accuracy. We will explain
which criteria it is best to band first
which of the elements inside each band are most important
how to decide between two bands
If you want to make the most of the lesson, why not download a copy of the band descriptors and "play along" with us.
What score would you give this essay? Don't think about the total score. Instead, give a score for each of the criteria based on how well you think the student has addressed each part. Then, listen to Nick and I do the same – you may be surprised at the results!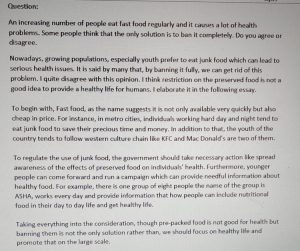 Download a copy of the public band descriptors here
---
You can find all of our video lessons, including a full 9-hour Grammar course, on our main website www.myieltsclassroom.com. This is where you can also sign up for our IELTS essay correction service or join one of our writing packages. 🚀